Better With Butter (Hardcover)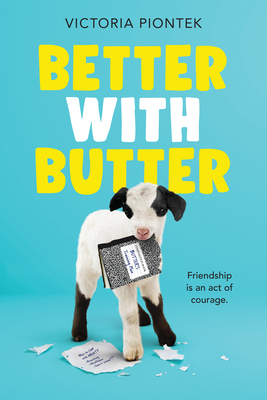 $17.99

Usually Ships in 1-5 Days
Signed and personalized copies available, plus free pre-order gift!
If you'd like a signed copy of Better with Butter, as well as any personalizations, please note in the comments field at checkout. Pre-order gift includes (while supplies last):
Exclusive, original art card of Butter with a quote from Better With Butter

A Butter sticker and

a Butter pin

A teal anxiety support ribbon pin.

Exclusive art created by Rebekah Lowell, an author/illustrator with a curiosity for nature that finds its way into her work (see more at www.rebekahlowell.com)
Description
---
A girl with anxiety disorder finds an unlikely friend -- and emotional support animal -- in the form of an adorable fainting goat.
Twelve-year-old Marvel is afraid of absolutely everything -- amusement park rides, food poisoning, earthquakes, and that big island of plastic floating through the ocean. She also obsesses about smaller worries like making friends, getting called on by the teacher, and walking home alone.
Her parents and the school therapist call her worries an anxiety disorder, but Marvel calls them armor. If something can happen, it will. She needs to be prepared.
But when Marvel stumbles on a group of older kids teasing a baby goat that has mysteriously shown up on the soccer field, she momentarily forgets to be afraid and rescues the frightened animal.
Only Butter isn't any old goat. She's a fainting goat. When Butter feels panic, she freezes up and falls over. Marvel knows exactly how Butter feels and precisely what Butter needs--her.
Soon, the two are inseparable, and Butter thrives under Marvel's support. But Butter also helps Marvel. Everything is better with Butter by her side, and Marvel starts to imagine a life in which she doesn't have to be so afraid . . . until she's told she might have to give up Butter forever. Will Marvel find a way to fight for her friend? Or will she revert back to the anxious, lonely person she used to be?
About the Author
---
Victoria Piontek is the author of The Spirit of Cattail County, a Bank Street College Best Book of the Year. As a child, she was lucky to have a menagerie of pets, including a goat that liked to follow her to the school bus each morning. She lives in Northern California with her husband, three children, and a gigantic fluffy dog. Better with Butter is her second novel. Visit her online at victoriapiontek.com or on social media @victoriapiontek.
Praise For…
---
"A lovely story with the perfect amount of heart, hope, and humor. Readers will be cheering Marvel on as she learns to deal with her anxiety." —Shannon Messenger, bestselling author of the Keeper of the Lost Cities series
"Marvel's honest first-person voice sheds light on an experience of living with chronic anxiety, conveying conflicts and progress with clear internal detail." –Publishers Weekly
"Tweens will love Marvel's candid narration as she slowly transforms into a healthier version of herself . . . a charming story." –Kirkus Reviews
"Utterly relatable and empowering, this book reminds readers that bravery comes in all different forms." — Kim Ventrella, author of Skeleton Tree and The Secret Life of Sam