Lines of Courage (Hardcover)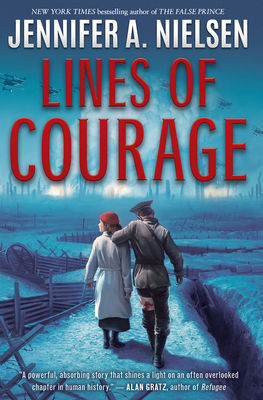 Description
---
Jennifer A. Nielsen, award-winning author of A Night Divided and Rescue, artfully weaves together the stories of five kids living through World War I, each of whom holds the key to the others' futures... if they are lucky -- and brave -- enough to find each other.
"A powerful, absorbing story that shines a light on an often overlooked chapter in human history." -- Alan Gratz, #1 New York Times bestselling author of Refugee
World War I stretches its cruel fingers across Europe, where five young people, each from different backgrounds and nations, face the terror of battle, the deprivations of hunger, and all the awful challenges of war.
Felix, from Austria-Hungary, longs for the bravery to resist Jewish deportations before his own family can be taken.
Kara, from Britain, dreams of someday earning her Red Cross pin and working as a nurse -- or even a doctor.
Juliette, of France, hopes her family can remain knitted together, despite her father's imprisonment, as the war's longest battle stretches on and on.
Elsa, from Germany, hopes her homing pigeon might one day bring her a friend from out of the chaos.
And Dimitri, of Russia, wants only to survive the front, where he's been sent with no weapon.
None of them will find exactly what they want. But the winds of fate may cross their paths to give each of them just what they need. And in this remarkable exploration of World War I by critically acclaimed author Jennifer A. Nielsen, they will discover that friendship and courage can light the way through the most frightening of nights.
About the Author
---
Jennifer A. Nielsen is the acclaimed author of the New York Times and USA Today bestselling Ascendance Series: The False Prince, The Runaway King, The Shadow Throne, The Captive Kingdom, and The Shattered Castle. She also wrote the New York Times bestseller The Traitor's Game and its sequels,The Deceiver's Heart, and The Warrior's Curse; the New York Times bestselling Mark of the Thief trilogy: Mark of the Thief, Rise of the Wolf, and Wrath of the Storm; the standalone fantasy The Scourge; and the critically acclaimed historical thrillers A Night Divided, Resistance, Words on Fire, Rescue, Lines of Courage, and the forthcoming Iceberg. Jennifer collects old books, loves good theater, and thinks that a quiet afternoon in the mountains makes for a nearly perfect moment. She lives in northern Utah with her family, and is probably sneaking in a bite of dark chocolate right now. You can visit her online at jennielsen.com or follow her on Twitter and Instagram at @nielsenwriter.
Praise For…
---
Praise for Words on Fire:
* "Gripping... Audra's story deserves a place on the shelf next to Lois Lowry's Number the Stars and Marcus Zusak's The Book Thief." -- Booklist, starred review
"[This] adventure about a little-known place and time... delivers action and suspense." -- Kirkus Reviews
"There is much on offer in this novel: family love, patriotism, magic, and the importance of books... Highly recommended." -- School Library Connection
Praise for Resistance:
A Sydney Taylor Notable Book
"The edge-of-your-seat climax places readers amidst the gritty, horrifying street battles of the Warsaw Ghetto and pays tribute to those who sacrificed themselves so others would live... Historical fiction at its finest, this informs, enlightens, and engages young readers." -- School Library Journal
"Highlight[s] moments of resistance via cinematic action sequences." -- Kirkus Reviews
"Suspense mounts continually as Chaya survives her ordeals, gaining strength and faith in her mission. The courage and self-sacrifice of many characters is inspiring." -- Publishers Weekly
"Fast-paced and suspenseful." -- School Library Connection
Praise for A Night Divided:
ILA-CBC Children's Choices List selection
"Absorbing and deeply suspenseful, with plenty of ticking-clock tension... an eye-opening glimpse of history." -- Bulletin of the Center for Children's Books
"A marvelously crafted historical novel about courage, perseverance and the will to survive, A Night Divided excels in every regard." -- Reading Eagle
"Distinct supporting characters... demonstrate the harrowing choices people made to survive, encouraging readers to consider what they would have done if fate and history had cast them into the story... The novel's strong setting and tense climax will keep readers engrossed and holding their breath until the last page." -- School Library Journal
"History buffs will drool over the magnificently told tale, but even reluctant readers will become immersed in the tension-filled exploits." -- Voice of Youth Advocates
"Like Anne Frank before her, Gerta is small but mighty, a hardheaded heroine who dreams up big ideas and refuses to give up in the face of adversity and danger." -- Publishers Weekly
Praise for the Ascendance Trilogy:
A New York Times Notable Children's Book
A Publishers Weekly Best Book of the Year
A Chicago Public Library "Best of the Best" Children's Book
A Cybils Award Winner
* "An impressive, promising story." -- Publishers Weekly, starred review
"[A] pageturner." -- New York Times Book Review
"Sage proves to be a compelling character whose sharp mind and shrewd self-possession will make readers eager to follow him into a sequel." -- The Wall Street Journal
"A swashbuckling origin story..." -- Los Angeles Times
"A fast-paced and thrilling read with twists and turns that never let up." -- School Library Journal
"Gripping." -- Kirkus Reviews
"Should appeal to fans of... Suzanne Collins... [A] surefire mix of adventure, mystery, and suspense." -- The Horn Book