Flooded: Requiem for Johnstown (Scholastic Gold) (Hardcover)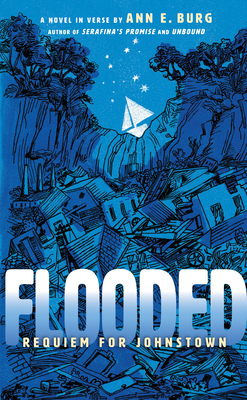 $18.99
Email or call for price
Description
---
Ann E. Burg explores the deep class divides and social injustice behind one of America's greatest tragedies.
* "Stunning, significant and sorrowful, Ann E. Burg's requiem melts history into prose... Highly recommended." -- School Library Journal, starred review
"Chillingly effective." -- Bulletin of the Center for Children's Books
Johnstown, Pennsylvania, in 1889 was a lively, working-class factory city. Above the soot-soaked streets, an elite fishing and hunting club, built on a pristine man-made lake, drew America's wealthiest business barons. Though repeatedly urged to fix the deteriorating dam that held the lake, the club members disregarded the warnings. And when heavy rains came, the dam collapsed and plunged the city into chaos.
On that fateful day, six children found themselves caught in the wreckage.
The chorus of their voices--all inspired by real people--create a gripping portrait of loss and healing. Plumbing themes of class, injustice, deprivation, and the environment, Ann E. Burg summons her prodigious heart and virtuosic poetry to turn one of the deadliest tragedies in our country's history into a transcendent and hopeful work of art.
About the Author
---
Ann Burg's debut novel, All the Broken Pieces, was named an ALA Best Book for Young Adults, a Jefferson Cup award winner and an IRA Notable Book for a Global Society, among its many honors. All of her subsequent novels in verse have garnered multiple awards and starred reviews. Serafina's Promise was named an ALA Notable, a Parents' Choice Gold Award Winner, and an NAACP Image Award finalist. Unbound was the winner of the New-York Historical Society Children's History Book Prize, the Christopher Award, and an Arnold Adoff Poetry Honor. Flooded was a Bank Street College Claudia Lewis Award winner, a Bank Street College Best Children's Book (with outstanding merit), and a Junior Library Guild selection. Burg worked as an English teacher for ten years before becoming a full-time writer. She lives in Rhinebeck, New York, with her family. Visit her online at annburg.com.
Praise For…
---
Praise for Flooded: Requiem for Johnstown:
* "Stunning, significant and sorrowful, Ann E. Burg's requiem melts history into prose. Brimming with sensory imagery and cadence that breathe life back into the 1889 disaster, this novel in verse serenades readers with multiple, yet personal voices of youth depicting daily life in Johnstown before and after the historic flood. Readers will quickly become connected to real life characters, empathetically curious of their fate. Through significant research and written testimony, Burg provides insight to the aftermath and unearths South Fork Dam's faulty structure and the liability of its prestigious Fishing and Hunting Club. The novel's artistry makes use of faded text to give voice after death to main characters as well as anonymous victims. Budding historians will be intrigued with new perspectives on prominent figures such as Clara Barton, Andrew Carnegie and Henry Clay. Highly recommended as a tragically engaging, poetic account of the 1889 disaster, which will leave an impression upon its readers." -- School Library Journal, starred review
"Burg ably conducts players and readers through a suite of emotions, from the slightly ruffled normalcy of family and school concerns, through the terror of the flood, and onto the frustration and outrage of working-class plaintiffs bringing well-heeled defendants to court. Burg uses identities of actual Johnstowners and, in a chillingly effective literary play, switches the names of deceased characters to their morgue tag numbers and grays out the font as they continue to speak after death... This is a worthy companion to similarly voiced novels." -- Bulletin of the Center for Children's Books
Awards and Praise for All the Broken Pieces:
ALA Best Books for Young Adults
IRA Notable Book for a Global Society
Jefferson Cup award winner
Booklist Editors' Choice
ALA Popular Paperback for Young Adults
* "[A] stirring debut novel... will make readers want to rush to the end and then return to the beginning again to make connections between past, present, friends and enemies." -- Booklist, starred review
* "Using spare free verse, first-time novelist Burg beautifully evokes the emotions of a Vietnamese adoptee as he struggles to come to terms with his past." -- Publishers Weekly, starred review
* "The verse form carries highly charged emotions and heavy content with elegiac simplicity." -- Kirkus Reviews, starred review
"The story is a lovely, moving one." -- School Library Journal
Awards and Praise for Serafina's Promise:
Kirkus Best Book of the Year
Parents' Choice Gold Award winner
School Library Journal Best Books of the Year
New York Public Library 100 Books for Giving and Sharing
The Herald-Sun Wilde Award for Longer books, Middle grade novel
Cybils Awards Finalists, Middle Grade Fiction
NAACP Image Awards Outstanding Literary Work -- Youth/Teens nominee
ALA Notable Book
ALA Notable Trade Book in the Field of Social Studies
Michigan Great Lakes Great Books Award nominee
Bank Street College Children's Book Committee -- Best Children's Books of the Year
Américas Award, Commended Title
Kansas' William Allen White Award
* "Lilting, lyrical, and full of hope." -- Kirkus Reviews, starred review
* "Powerful and uplifting." -- School Library Journal, starred review
"The grace of the Haitian people is revealed in Burg's poetic language, the vastness of Haiti's needs apparent in the details of Serafina's world. Serafina's journey is one readers will find unsettling but, at the same time, rich with examples of true courage and dignity." -- Karen Hesse, author of the Newbery Medal winner Out of the Dust and Safekeeping
"Serafina is certainly a resilient and admirable character who will touch the hearts of many... Through this story, Ann extends the reputation she established with All the Broken Pieces." -- Don Gallo
"A fascinating poetic tale, a magic window that opens gently and brings to your heart the cultural richness and wonders of a fate-taunting nation." -- Denize Lauture
Awards and Praise for Unbound:
New-York Historical Society Children's History Book Prize Winner
Arnold Adoff Poetry Award for Middle Readers, Honor Book
Christopher Award, Books for Young People
Kirkus Prize Nominee
NYPL Best Books of the Year
* "A combination of historical precision, honesty, and adventure... Beautifully done." -- Kirkus Reviews, starred review
* "Strong readers will appreciate the rhythmic flow of the poetry and the well-executed pacing... An ideal selection for classrooms and libraries... across a wide grade range." -- School Library Journal, starred review
Praise for Flooded: Requiem for Johnstown:
* "Stunning, significant and sorrowful, Ann E. Burg's requiem melts history into prose. Brimming with sensory imagery and cadence that breathe life back into the 1889 disaster, this novel in verse serenades readers with multiple, yet personal voices of youth depicting daily life in Johnstown before and after the historic flood. Readers will quickly become connected to real life characters, empathetically curious of their fate. Through significant research and written testimony, Burg provides insight to the aftermath and unearths South Fork Dam's faulty structure and the liability of its prestigious Fishing and Hunting Club. The novel's artistry makes use of faded text to give voice after death to main characters as well as anonymous victims. Budding historians will be intrigued with new perspectives on prominent figures such as Clara Barton, Andrew Carnegie and Henry Clay. Highly recommended as a tragically engaging, poetic account of the 1889 disaster, which will leave an impression upon its readers." -- School Library Journal, starred review
"Burg ably conducts players and readers through a suite of emotions, from the slightly ruffled normalcy of family and school concerns, through the terror of the flood, and onto the frustration and outrage of working-class plaintiffs bringing well-heeled defendants to court. Burg uses identities of actual Johnstowners and, in a chillingly effective literary play, switches the names of deceased characters to their morgue tag numbers and grays out the font as they continue to speak after death... This is a worthy companion to similarly voiced novels." -- Bulletin of the Center for Children's Books
Awards and Praise for All the Broken Pieces:
ALA Best Books for Young Adults
IRA Notable Book for a Global Society
Jefferson Cup award winner
Booklist Editors' Choice
ALA Popular Paperback for Young Adults
* "[A] stirring debut novel... will make readers want to rush to the end and then return to the beginning again to make connections between past, present, friends and enemies." -- Booklist, starred review
* "Using spare free verse, first-time novelist Burg beautifully evokes the emotions of a Vietnamese adoptee as he struggles to come to terms with his past." -- Publishers Weekly, starred review
* "The verse form carries highly charged emotions and heavy content with elegiac simplicity." -- Kirkus Reviews, starred review
"The story is a lovely, moving one." -- School Library Journal
Awards and Praise for Serafina's Promise:
Kirkus Best Book of the Year
Parents' Choice Gold Award winner
School Library Journal Best Books of the Year
New York Public Library 100 Books for Giving and Sharing
The Herald-Sun Wilde Award for Longer books, Middle grade novel
Cybils Awards Finalists, Middle Grade Fiction
NAACP Image Awards Outstanding Literary Work -- Youth/Teens nominee
ALA Notable Book
ALA Notable Trade Book in the Field of Social Studies
Michigan Great Lakes Great Books Award nominee
Bank Street College Children's Book Committee -- Best Children's Books of the Year
Américas Award, Commended Title
Kansas' William Allen White Award
* "Lilting, lyrical, and full of hope." -- Kirkus Reviews, starred review
* "Powerful and uplifting." -- School Library Journal, starred review
"The grace of the Haitian people is revealed in Burg's poetic language, the vastness of Haiti's needs apparent in the details of Serafina's world. Serafina's journey is one readers will find unsettling but, at the same time, rich with examples of true courage and dignity." -- Karen Hesse, author of the Newbery Medal winner Out of the Dust and Safekeeping
"Serafina is certainly a resilient and admirable character who will touch the hearts of many... Through this story, Ann extends the reputation she established with All the Broken Pieces." -- Don Gallo
"A fascinating poetic tale, a magic window that opens gently and brings to your heart the cultural richness and wonders of a fate-taunting nation." -- Denize Lauture
Awards and Praise for Unbound:
New-York Historical Society Children's History Book Prize Winner
Arnold Adoff Poetry Award for Middle Readers, Honor Book
Christopher Award, Books for Young People
Kirkus Prize Nominee
NYPL Best Books of the Year
* "A combination of historical precision, honesty, and adventure... Beautifully done." -- Kirkus Reviews, starred review
* "Strong readers will appreciate the rhythmic flow of the poetry and the well-executed pacing... An ideal selection for classrooms and libraries... across a wide grade range." -- School Library Journal, starred review