25 Quick Formative Assessments for a Differentiated Classroom, 2nd Edition: Easy, Low-Prep Assessments That Help You Pinpoint Students' Needs and Reach All Learners (Paperback)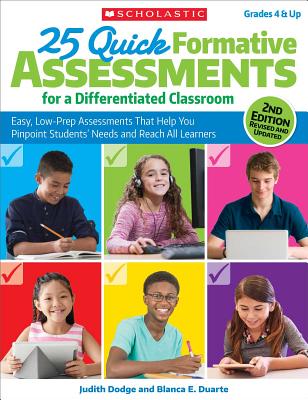 $21.99

Usually Ships in 1-5 Days
Description
---
This new edition of this best-selling resource includes new and updated formative assessment templates, technology connections with easy-to-use digital applications for every assessment, a new section on rubrics and self-assessments, a new focus on scaffolding ELLs, and so much more! These ready-to-go activities–complete with step-by-step lessons, student samples, tiering tips, and reproducible student pages–can be used across the curriculum and provide valuable assessment data for teachers.
About the Author
---
Judy Dodge is a learning specialist and a recognized leader in the field of effective classroom instruction. A former teacher and national presenter, she is the author of numerous articles and books, including The Study Skills Handbook (Scholastic, 1994), Differentiation in Action (Scholastic, 2006), 25 Quick Formative Assessments for a Differentiated Classroom (Scholastic, 2009), co-author of Core Instructional Routines K-5 (Heinemann, 2015) as well as, Core Instructional Routines 6-12 (Heinemann, 2016). Her current work involves helping teachers to enhance the individual strengths of diverse learners in an era of Common Core Standards. The focus of her work includes study skills, reading and writing across the content areas, strengthening student questioning and vocabulary skills, formative assessment, differentiated instruction, and designing tiered activities to scaffold ELLs and struggling learners while being able to challenge advanced learners at the same time. She enjoys collaborating with teachers and administrators to create joyful, yet rigorous, classrooms that make learning visible.

Blanca Duarte is an educational technology specialist and chief enablement officer at LogicWing, a Google and Microsoft Education professional development partner. For the last 15+ years she has worked in public and private education, helping educators develop 21st-century skills and collaborating with administrators and teachers to create new ways to motivate and engage learners in deeper uses of technology.