American by Day (Hardcover)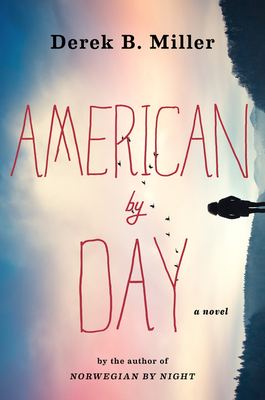 for information about purchasing this book, please contact orders@bookpassage.com
Staff Reviews
---
There is nothing more satisfying than a beautifully crafted literary mystery. A perfect example of this is the latest from Derek B. Miller, the acclaimed author of Norwegian by Night. In American by Day, Norwegian police officer, Sigrid Ødegård, finds herself confounded by the backwoods and politics of the Adirondacks as she tries to track down her missing brother. Miller penetrates the darkness of America's unique brand of individualism, while never losing the heart and humor that makes his writing so refreshing. This is one that even non-mystery readers will love! —Luisa
— From
Elaine and Luisa's Picks: March - April 2018
Description
---
"Ingenious. Humorous. Wonderful."—Lee Child

 A gripping and timely novel that follows Sigrid—the dry-witted detective from Derek B. Miller's best-selling debut Norwegian by Night—from Oslo to the United States on a quest to find her missing brother

SHE KNEW IT WAS A WEIRD PLACE. She'd heard the stories, seen the movies, read the books. But now police Chief Inspector Sigrid Ødegård has to leave her native Norway and actually go there; to that land across the Atlantic where her missing brother is implicated in the mysterious death of a prominent African-American academic. AMERICA.
 
Sigrid is plunged into a United States where race and identity, politics and promise, reverberate in every aspect of daily life. Working with—or, if necessary, against—the police, she must negotiate the local political minefields and navigate the backwoods of the Adirondacks to uncover the truth before events escalate further.

Refreshingly funny, slyly perceptive, American by Day secures Derek B. Miller's place as one of our most imaginative and entertaining novelists.

You can follow Sigrid Ødegård's first case by reading Norwegian by Night.
About the Author
---
DEREK B. MILLER has worked on international peace and security for think tanks, diplomatic missions, and the United Nations. His first novel, Norwegian by Night, was an Indies Choice Honor Book, an Economist "Best Book of 2013," and a winner of the CWA's John Creasey Dagger Award. His second novel, The Girl in Green, was published in 2017. Born and raised in Boston, Miller has lived abroad for more than fifteen years, in Norway, Switzerland, Britain, Israel, and Hungary. He now lives in Oslo, Norway, with his wife and two children. 
 
Praise For…
---
Shortlisted for the 2019 CWA Gold Dagger

"Sure Derek Miller's novels are smart and full of heart and savvy and hilarious, but even more than all of this, he's fun.  He's as dedicated as any writer I know to the proposition that readers should enjoy themselves, should delight in the experience of life and language.  If our hearts get broken along the way, so much the better."
—Richard Russo

"Ingenious. Humorous. Wonderful."
—Lee Child

"[An] outstanding crime novel...Leavened throughout with Miller's wry reflections on Norway's 'chronic sense of discontentment,' this incandescent exposé of European and American mores profoundly entertains and provokes disturbing questions about personal and societal values."
—Publishers Weekly, Starred and Boxed Review 

"If Tocqueville had written a police thriller, it might look something like this engrossing and wryly humorous but also deeply serious work. [American by Day is] for fans of Miller and his previous works (e.g., The Girl in Green), which were deservedly acclaimed."
—Library Journal, Starred Review

"What lifts this well above average are the characters, notably Sigrid and Irv, and their relationship and discussions, ranging from the investigative process to the characteristics of their respective countries, as they determine to what extent they can work together to achieve their desired goals. Miller offers a slightly different spin on Scandinavia-set crime fiction, wrapping a thriller plot around the character-driven substance of literary fiction to produce a hybrid that is compelling from any angle."
—Booklist, Starred Review

"Like his acclaimed debut, Norwegian by Night (2013), Miller's highly enjoyable new book is a solid mystery wrapped up in musings about individuality and freedom, grief and sadness."
—Kirkus Reviews

"A superb novel on all levels...Miller is a classy satirist of American mores."
—Marcel Berlins, The Times (UK)

"Derek B. Miller writes the kind of crime fiction the world needs right now. Principled, but not afraid to get down and dirty—and shot through with some of the sharpest humour you're likely to find."
—Joseph Knox, bestselling author of Sirens

"Not to be missed...A subtle crime story peopled with beautifully drawn characters."
—Geoffrey Wansell, Daily Mail (UK)

"A witty and intelligent fish-out-of-water tale."
—Sun (UK)

"American By Day is a terrific book—a high-class thriller with a neat Norwegian twist. You won't forget Sigrid, an Oslo detective on a mission in upstate New York; her outsider's take on American society gives this page-turner a unique and compelling sensibility."
—Erica Wagner, author of Seizure and others

"What astonishes and impresses me about Miller's books—and American by Day is no exception—is how witty and entertaining they are in moments, and yet deeply resonant and meaningful as well. Whether tackling issues of war or race, Derek Miller goes to the heart of matters affecting how we as a civilization live."
—Sheryl Cotleur, Copperfield's Books