The Myth Of The Nice Girl: Achieving a Career You Love Without Becoming a Person You Hate (Hardcover)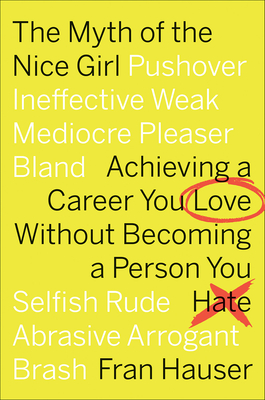 for information about purchasing this book, please contact orders@bookpassage.com
Description
---
An Amazon Best Business Book of 2018

Selected by Audible as the Best Business Book of 2018

Named "Best New Book" by People Magazine and Refinery29

Named a Most Anticipated Title of April 2018 by Bustle and Levo

A Women@Forbes "Boss Moves Book Club" pick

A candid guide for ambitious women who want to succeed without losing themselves in the process

In THE MYTH OF THE NICE GIRL, Fran Hauser deconstructs the negative perception of "niceness" that many women struggle with in the business world. If women are nice, they are seen as weak and ineffective, but if they are tough, they are labeled a bitch.

Hauser proves that women don't have to sacrifice their values or hide their authentic personalities to be successful. Sharing a wealth of personal anecdotes and time-tested strategies, she shows women how to reclaim "nice" and sidestep regressive stereotypes about what a strong leader looks like. Her accessible advice and hard-won wisdom detail how to balance being empathetic with being decisive, how to rise above the double standards that can box you in, how to cultivate authentic confidence that projects throughout a room, and much more.

THE MYTH OF THE NICE GIRL is a refreshing dose of forward-looking feminism that will resonate with smart, professional women who know what they want and are looking for real advice to take their career to the next level without losing themselves in the process.
About the Author
---
FRAN HAUSER is a long-time media executive, startup investor and celebrated champion of women and girls. She's held senior positions at some of the world's largest digital media businesses, including Time Inc.'s People, InStyle and Entertainment Weekly as well as Moviefone and AOL. Now an angel investor who largely invests in female founders, Fran was named one of Refinery29's "6 Most Powerful Women in NYC's Tech Scene," and has been featured by CNBC, Forbes, Vogue.com, Ad Age, and more.
Praise For…
---
An Amazon Best Business Book of 2018 Named "Best New Book" by People Magazine and Refinery29 One of goop's "Great Books for Career Inspiration"  One of the muse's "9 Highest-Rated Career Books of 2018, According to Goodreads" Named a Most Anticipated Title of April 2018 by Bustle and Levo A Women@Forbes "Boss Moves Book Club" pick "Yes, ambitious women can achieve satisfying careers of power and leadership without sacrificing kindness - by using it, in fact. This guide tells you how to strategize, but nicely."—People Magazine, "Best New Books"  "Is it possible to be both kind and a total badass? Yes—and Fran Hauser tells us how. She kills the tired clichés that nice equals weak and tough equals bitch with anecdotes and research to unveil a sort of mentor/friendlike manual on how to get to where you're going without letting genuine kindness be an impediment…Each page is a fun ride, filled with advice for all facets of the working world, from collaborating to negotiating to taking risks…You'll close this book a wiser person."—goop, "7 Great Books for Career Inspiration"  "Many career titles gloss over the muck successful people have to wade through to get to the top. Fortunately, Fran gets into the mess — and gets specific — explaining how she has learned to handle all kinds of uncomfortable moments with authenticity and grace…If you're looking for fresh perspective on solving old problems, or are trying to forecast ways to tackle future ones, this book is worth a read."—Refinery29 "For anyone trying to figure out how to climb the corporate ladder, launch a new business, or gain more confidence in their day-to-day quest to love what they do and how they do it, this book is for you…The Myth of the Nice Girl is a great book for those who want to take on more work without seeming overly ambitious or bossy in a bad way. It's great for managers who need tips on how to provide feedback in more effective ways while still being nice and not making it personal…Karma's a b*tch, and with this guide, you can sleep easy knowing you are doing the right things to get ahead without having to hate yourself in the end."-Lisa Sugar, PopSugar "If candid advice is what you seek, look no further than The Myth of the Nice Girl. It'll help you fight double standards and balance empathy with decisiveness, all while helping guide your ambition."—HelloGiggles "[The Myth of the Nice Girl] blows up the negative perception of 'niceness' that many women struggle with in the workplace."—New York Post "In [The Myth of the Nice Girl], Fran Hauser turns the "nice girl" notion on its head."—Forbes "We need more women at every level of the workplace. And, in The Myth of the Nice Girl, Fran Hauser redefines our outdated notions of what a powerful leader should look like and shows how a culture in which we no longer allow brilliant jerks to dominate the workplace will be better not just for women, but for everyone — and for the bottom line." --Arianna Huffington, Founder & CEO of Thrive Global and Founder of Huffington Post "If you want to redefine success on your own terms, you have to reimagine