Plunder: A Memoir of Family Property and Nazi Treasure (Hardcover)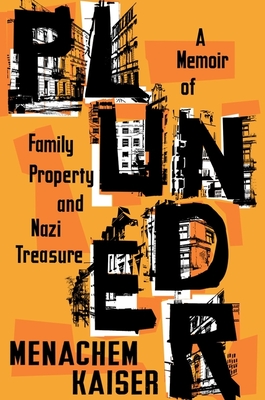 Description
---
A New York Times Critics' Best Nonfiction Book of 2021
Canadian Jewish Literary Award for Biography

From a gifted young writer, the story of his quest to reclaim his family's apartment building in Poland—and of the astonishing entanglement with Nazi treasure hunters that follows 

Menachem Kaiser's brilliantly told story, woven from improbable events and profound revelations, is set in motion when the author takes up his Holocaust-survivor grandfather's former battle to reclaim the family's apartment building in Sosnowiec, Poland. Soon, he is on a circuitous path to encounters with the long-time residents of the building, and with a Polish lawyer known as "The Killer."  A surprise discovery—that his grandfather's cousin not only survived the war, but wrote a secret memoir while a slave laborer in a vast, secret Nazi tunnel complex—leads to Kaiser being adopted as a virtual celebrity by a band of Silesian treasure seekers who revere the memoir as the indispensable guidebook to Nazi plunder. Propelled by rich original research, Kaiser immerses readers in profound questions that reach far beyond his personal quest. What does it mean to seize your own legacy? Can reclaimed property repair rifts among the living? Plunder is both a deeply immersive adventure story and an irreverent, daring interrogation of inheritance—material, spiritual, familial, and emotional. 
About the Author
---
MENACHEM KAISER holds an MFA in creative writing from the University of Michigan and was a Fulbright Fellow to Lithuania. His writing has appeared in the Wall Street Journal, the Atlantic, New York, and elsewhere. He lives in Brooklyn, NY.
Praise For…
---
"A twisting and reverberant and consistently enthralling story. It's a weird story that gets weirder … Kaiser is a reflective man on the page, with a lively mind. He dwells on the moral seesaw he finds himself on … Kaiser considers the nature of conspiracy theories, in a way that's highly relevant to our era. (His thinking about reparations of various kinds is as complex and timely.) … Plunder has many stories to tell … many moods and registers. It acquires moral gravity. It pays tender and respectful attention to forgotten lives. It is also alert to melancholic forms of comedy. Tonally I was reminded at times of Jonathan Safran Foer's excellent first novel, Everything Is Illuminated … Traveling on a private road, closer to the ground, and at a slower pace, [Kaiser's] walk turns up details that are fresh, unexpected and significant. His perceptions are sharp. We partake of his curiosity."—Dwight Garner, The New York Times "This is weird, complicated territory — by which I mean it's fantastic . . . 'Plunder' thrives as a morally complicated travelogue . . . it is original, and it finishes strong. Kaiser chases down the facts (fingers-crossed) of Abraham Kajzer's story, and they devastated me. It's not spoiling things to say that Kajzer survived the absolute worst humanity had to offer only to abandon life's greatest reward. From the distance of all these years his choice is incomprehensible. It's our duty to try to understand anyway."—The New York Times Book Review "Often hilarious, often poignant … A light tone belies the book's seriousness of purpose: to tease out thorny issues of inheritance, reparations, and what it means to honor one's dead." —New Yorker   "[Kaiser's] rabbit-hole quest leads to wild encounters with Nazi treasure hunters, a lawyer named Killer, and plenty of questions. Fascinating." —People "A master storyteller embarks on a journey to learn about his grandfather and to reclaim an apartment building that was stolen during the Holocaust. The odyssey is fascinating and thought-provoking."—Christian Science Monitor, The 10 Best Books of March "With smart, elegant prose, [Kaiser] manages to construct an engrossing chronicle of his foray into an elusive past. His narrative is wonderfully digressive, laced with coincidences and ambiguities, and filled with just enough revelations to keep readers contentedly turning pages."—The Forward "A saga of family history and inheritance that reads like a murder mystery, Plunder begins with Menachem Kaiser's journey to reclaim a Polish apartment building but immediately becomes something far richer and stranger. Probing with unusual insight and humor into questions of memory, loss, and what we owe to the past, this impossible-to-put-down book — part travelogue, part memoir, part meditation on all that history hides from us — marks the debut of a major writer."—Ruth Franklin, author of NBCC Award-winning Shirley Jackson: A Rather Haunted Life   "Exceptionally well written, this candid and suspenseful work recasts the injunction that one generation of survivors demands of all descendants, never to forget. Plunder is a magnificent and stunning literary debut."—André Aciman, author of Find Me and Call Me by Your Name —