The Secret of Life: Rosalind Franklin, James Watson, Francis Crick, and the Discovery of DNA's Double Helix (Paperback)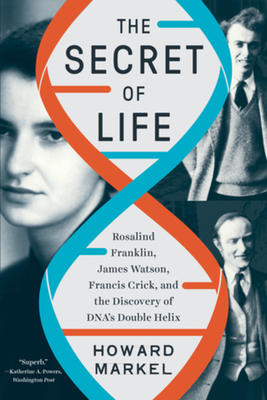 Description
---
An NPR Best Book of the Year



An authoritative history of the race to unravel DNA's structure, by one of our most prominent medical historians.
James Watson and Francis Crick's 1953 discovery of the double helix structure of DNA is the foundation of virtually every advance in our modern understanding of genetics and molecular biology. But how did Watson and Crick do it—and why were they the ones who succeeded?
In truth, the discovery of DNA's structure is the story of five towering minds in pursuit of the advancement of science, and for almost all of them, the prospect of fame and immortality: Watson, Crick, Rosalind Franklin, Maurice Wilkins, and Linus Pauling. Each was fascinating and brilliant, with strong personalities that often clashed. Howard Markel skillfully re-creates the intense intellectual journey, and fraught personal relationships, that ultimately led to a spectacular breakthrough. But it is Rosalind Franklin—fiercely determined, relentless, and an outsider at Cambridge and the University of London in the 1950s, as the lone Jewish woman among young male scientists—who becomes a focal point for Markel.
The Secret of Life is a story of genius and perseverance, but also a saga of cronyism, misogyny, anti-Semitism, and misconduct. Drawing on voluminous archival research, including interviews with James Watson and with Franklin's sister, Jenifer Glynn, Markel provides a fascinating look at how science is done, how reputations are undone, and how history is written, and revised.
A vibrant evocation of Cambridge in the 1950s, Markel also provides colorful depictions of Watson and Crick—their competitiveness, idiosyncrasies, and youthful immaturity—and compelling portraits of Wilkins, Pauling, and most cogently, Rosalind Franklin. The Secret of Life is a lively and sweeping narrative of this landmark discovery, one that finally gives the woman at the center of this drama her due.
About the Author
---
Howard Markel is the George E. Wantz Distinguished Professor of the History of Medicine at the University of Michigan, an award-winning author, and a frequent contributor to the PBS NewsHour and the New York Times. He lives in Ann Arbor, Michigan.