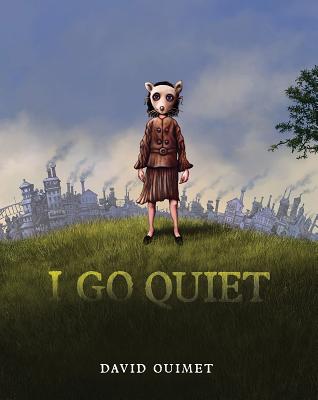 Description
---
How should I sound?
How should I look?
When it's my turn to speak,
I go quiet.
Here is the story of an introverted girl, hiding in silence in a world that seems overpowering and hostile. In the power of imagination and the pages of books, she sees possibilities for herself and discovers a place where her words ring loud and true.
David Ouimet's exquisite debut translates the interior world of an anxious child into intricate paintings that convey how it feels to be lonely, isolated, and scrutinized—and how it feels to break free and soar. I Go Quiet will resonate with anyone who has struggled to find their voice.
About the Author
---
David Ouimet is a New York–based artist and musician. He's illustrated several children's books, and I Go Quiet was his debut as author and illustrator. His work has appeared on album covers, and in magazines and newspapers, including the New York Times.
Praise For…
---
A thought-provoking tale that is both tantalizing and timeless, where disquiet is dispelled through hope and sprouting confidence
— Booklist (starred review)

Hauntingly beautiful.
— School Library Journal (starred review)

Astonishingly beautiful… I wish this book had been around when I was a child: I would not have felt quite as alone.
— Neil Gaiman

A powerful book, about the intensity that can live behind silence; about the power of books and how they give us strength and knowledge to deal with the world in which we find ourselves. A wonder.
— Matt Haig

Stunning!... David Ouimet understands that to comfort means to strengthen, not to coddle. I want to send it back in time to my seven-year-old self.
— Stephen Fry

Completely original. Unique, in fact.
— Phillip Pullman