The Healthcare Mandate: How to Leverage Disruptive Innovation to Heal America's Biggest Industry (Hardcover)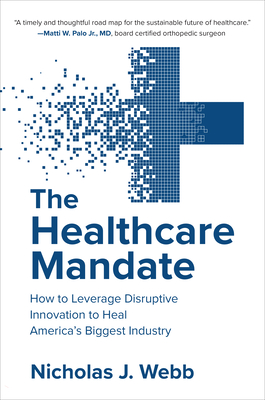 $28.00

Usually Ships in 1-5 Days
Description
---
A top healthcare futurist and consultant shows healthcare professionals and stakeholders how to redirect resources and leverage innovation to improve wellness and lower costs.
Despite being the wealthiest nation on earth, the United States spends much of its healthcare money and resources pursuing the wrong goal: curing people after they get sick. In this provocative book, Nicholas J. Webb charts a bold new path that puts the focus not on reactionary treatment but on anticipation and prevention. Webb argues that we have a unique opportunity to leverage disruptive innovation to fulfill these goals. Emerging digital technologies now make it possible to collect, analyze, and act upon the enormous quantities of health-related data that every individual generates every day. This data often foreshadows disease and can alert the healthcare provider to the existence of a life-threatening condition before there are any outward symptoms, thereby enabling caregivers to pivot from treatment after the fact to anticipation, prevention, and, when necessary, reduced treatment to correct a smaller problem.
This is The Healthcare Mandate--a powerful and illuminating guide to the new tools that healthcare professionals can start using right now to:

See their clients not only as patients to be cured but as constituents to keep healthy.
Identify and respond to emerging health problems as early as possible.
Access and share constituent data with other healthcare providers.
Navigate the increasingly complex world of patient data rights.
Meet the challenge of non-medical online healthcare providers.
Address constituent lifestyle choices that lead to obesity, diabetes, and heart disease.
Respond to the increasing consumerization of healthcare.
Drawing upon his decades of experience as an industry expert with dozens of medical patents, Webb offers a positive and achievable vision for the future of healthcare.
About the Author
---
Nicholas J. Webb is a preeminent healthcare futurist, professional speaker, award-winning inventor of medical devices, and author. He works with some of the top healthcare organizations--including Pfizer, Blue Cross, Siemens Healthcare, the American Hospital Association, and the American Academy of Dermatology--to help them lead their market in enterprise strategy, patient experience (PX), and innovation. He has been awarded over 40 patents by the US Patent and Trademark Office, and has invented one of the first wearable technologies and one of the world's smallest medical implants. He is the founding director and Chief Innovation Officer of the Center for Innovation at Western University of Health Sciences, in Pomona, California, where he also serves as an adjunct professor of innovation.