The Engaged Caregiver: How to Build a Performance-Driven Workfo Ce to Reduce Burnout and Transform Care (Hardcover)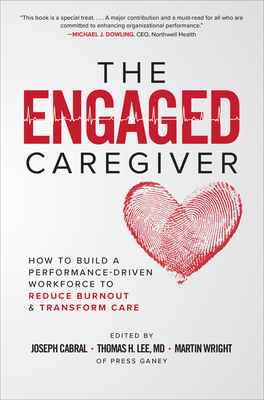 $32.00
Email or call for price
Description
---
From the top experts on healthcare workforce engagement comes a vital road map to reduce the alarmingly high--and fast-growing--rate of staff burnout and to transform care.
More than half of U.S. physicians and 40 percent of nurses experience one or more symptoms of burnout. This crisis poses a serious threat to our health systems, impacting not only the well-being of the caregiving workforce but also that of their patients.
Written by a team of thought leaders with deep expertise in healthcare workforce engagement and cultural development, The Engaged Caregiver shows leaders, managers, and front-line providers how to:
-Recognize the early signs of burnout and turn it around
-Address staff more effectively to keep them engaged
-Build strong, reliable teams with a real sense of purpose
-Map their organization's core values and get everyone on board
-Create a positive culture that's cohesive, inclusive, and resilient
-Develop highly effective leadership and organizational systems
-Hire, engage, and manage talent strategically--and successfully
-Promote diversity, equity, and inclusion in the workplace
-Leverage data to drive improvements throughout the organization
In this wide-ranging guide, healthcare professionals will learn how to identify, diagnose, address, and overcome caregiver burnout on a personal level, as well as measure, develop, and implement strategies that improve the entire workplace culture. The Engaged Caregiver provides an actionable plan for creating a resilient work culture that empowers caregivers and gives them the support they need to fulfill the patient promise with every care experience, every day.
About the Author
---
Joseph Cabral is Chief Human Resources Officer (CHRO) and President of Workforce Solutions at Press Ganey. Prior to this, he held CHRO positions at Partners HealthCare, Cleveland Clinic, and Northwell Health. He has held HR leadership roles at NewYork-Presbyterian Hospital and Boston Children's Hospital. Thomas H. Lee, MD, is Chief Medical Officer of Press Ganey, where he is responsible for developing clinical and operational strategies to measure and improve the patient experience. An internist and cardiologist, he continues to practice primary care at Brigham and Women's Hospital in Boston. He is the author of An Epidemic of Empathy in Healthcare.Martin Wright is a Partner in Press Ganey's Transformational Advisory Services group focused on the caregiver experience, including safety culture and employee and physician engagement. Prior to this, he was VP of Engagement Services at Avatar Solutions, where he spearheaded strategic planning, solution development, client engagements, and team leadership.