Surviving Storms: Finding the Strength to Meet Adversity (Hardcover)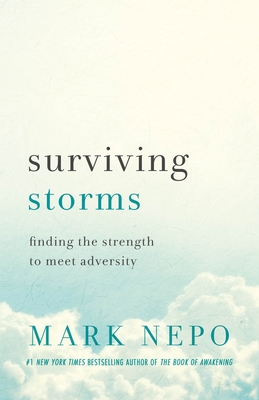 Description
---
"This book is an enduring resource for our times. Journey here and discover your own strength." —Chip Conley, New York Times bestselling author and founder of the Modern Elder Academy

In Surviving Storms, bestselling author and spiritual teacher Mark Nepo explores the art and practice of meeting adversity by using the timeless teachings of the heart.

We live in a turbulent time. Storms are everywhere, of every size and shape. And like every generation before us, we must learn the art of surviving them, so we can help each other endure.

In order to stand firm against life's unavoidable storms, we need to know our true self, deepening our roots and solidifying our connection to all Spirit and all life. Then we, like a firmly rooted tree, can endure the force of trials and heartbreak.

A profoundly timely resource, Surviving Storms describes the heart's process of renewal and connection with insight and accuracy. Though we must each map the territories of our souls for ourselves, this spiritually practical book is an indispensable guide, bringing us to common passages and paths and urging us forward on the journey. Once the rubble clears, we, like those before us, are inevitably called to build the world one more time, admitting that we need each other.
About the Author
---
Mark Nepo is a poet and philosopher who has taught in the fields of poetry and spirituality for over 40 years. A New York Times #1 bestselling author, he has published over 20 books, including The Book of Awakening, Surviving Storms, and Finding Courage, and has recorded more than a dozen audio projects. Mark has been interviewed several times by Oprah Winfrey as part of her Super Soul Sunday TV show, and was interviewed by Robin Roberts on Good Morning America. As a cancer survivor, Mark devotes his writing and teaching to the journey of inner transformation and the life of relationship. His work has been translated into more than 20 languages.
Praise For…
---
"Surviving Storms is a multidimensional overview of the storms in our time and the spiritual practices and attitudes needed to help us face them. You are not likely to find anywhere else such a concise and wide-ranging analysis of the storms we are experiencing today. Nepo has proven in many books, including this one, that he is an astute observer of societal trends and American culture."
—Mary Ann and Frederic Brussat, Spirituality and Practice

"Lyrical, insightful, and wise, Surviving Storms is the guide to resilience that we find ourselves so desperately needing, both for individuals and communities. Mark Nepo's words are a potent antidote to discouragement and a heartfelt call to perseverance."
— Arianna Huffington, Founder & CEO, Thrive

"How can we walk through the fractured landscape of today and keep our eyes clear and our hearts open? Through his ability to find the wisdom in ordinary things, Mark Nepo shows how heartwork can deepen us on this journey, helping us to repair ourselves and the world. Here are resources for the traveler, helping us to say yes to life, awakening us to the grace that is always present."
—Llewellyn Vaughan-Lee PhD, Sufi teacher and author, Sufism: the Transformation of the Heart

"Mark Nepo has long been a steady guide in living with an open heart. In his latest book, Mark brings a lifetime of experience and learning to bear on how we can find the strength to survive the storms life puts in our path. This book is an enduring resource for our times. Journey here and discover your own strength."
—Chip Conley, New York Times bestselling author and founder of the Modern Elder Academy

"Very few modern writers impress me as much as Mark Nepo with his insight, inspiration, and turn of phrase."
—Christopher Buck, Publisher, OMTimes

"Mark Nepo is an exceptional writer and an amazing teacher and spiritual guide."
—Paul Grondahl, Director, New York State Writers Institute

"There's a reason the heart is located at the center of every sentient being. It is within our heart-center, our core, that we find our connection to and feel our coherence with the Divine. And it is through the wisdom and power of the heart that we discover the innate love, courage, and strength to transcend any challenge, regardless of what is happening in our lives and the world. Surviving Storms is your fail-safe guide in that discovery and exploration, one which ultimately leads to your freedom and empowerment."
—Michael Bernard Beckwith, Founder & CEO of Agape International Spiritual Center and author of Life Visioning and Spiritual Liberation

"In this luminous collection of reflections on the turbulence of our times, my friend Mark Nepo once again beckons us toward the beauty in the brokenness, the holiness in the hot mess, and the call to oneness at the heart of our sense of disconnection. In reclaiming our kinship with all life, this book helps us increase our capacity to participate in mending and rebuilding the world."
—Mirabai Starr, author of Caravan of No Despair and Wild Mercy

"Mark Nepo is our bard of the enlightened heart, a voice of tenderness, wisdom, and sanity at a time when we are in upheaval. This book will steady you as you go and help you reach your true destination."
—Mark Matousek, author of Ethical Wisdom: The Search for a Moral Life and Sex Death Enlightenment: A True Story

"Through twenty beautiful books of prose and poetry, Mark Nepo has shown us that life is a bottomless well of meaning when plumbed with the poetic imagination that is his hallmark. Now he's done it again with his insightful and empowering reflections on finding the strength to meet adversity. We need this book as we grieve our losses from climate change, a world-wide pandemic, war and threats of war, and radical inequality. Mark looks straight into the challenges we face, and still finds hope in our shared journey. The key, he says, is "staying devoted to the difficult and beautiful journey of being human." That's exactly what he does in this superb exploration. Count me among the deeply grateful."
—Parker J. Palmer, author of On the Brink of Everything, Let Your Life Speak, A Hidden Wholeness, and The Courage to Teach

"There are those times—so widespread right now—when storms of conflict, confusion and adversity rage within and all around us. Who doesn't yearn for the wisdom and ways to endure, and perhaps to even grow through it all? In Surviving Storms, spiritual teacher, poet, and cancer survivor, Mark Nepo, blesses us with a spark in the dark . . . soul stirring inspiration to reconnect us with the deepest things in life. Let this book help you, as it did me, become undeniably and passionately rooted in the courage, resilience and greatness of the awakened heart."
—Dr. Roger Teel, Spiritual Leader and Author of This Life is Joy

"Mark Nepo is a tremendous storyteller, and every story in his new book, Surviving Storms, is resonant, like a chord in music, letting you drop into a moment of truth and deeper knowing that we are more together than alone. This book supports us to be with our suffering without breaking, and to draw comfort and support from those who've come before us."
—Brooke Warner, publisher of She Writes Press

"Surviving Storms is thought provoking, riveting, courageous, honest, and true. The light of something timeless and true moves through Mark Nepo's heart and fills his voice as he pours hope into both our collective and individual wounds."
—Michael Mejia, Poet