The Root of All Evil (Paperback)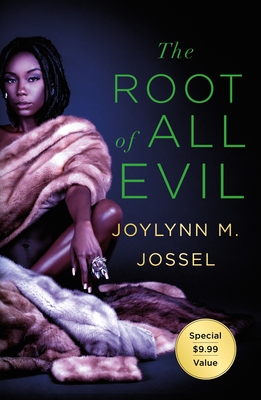 $9.99

Usually Ships in 1-5 Days
Description
---
Joylynn M. Jossel's The Root of All Evil is a sexy, drama-filled, roller coaster of a ride about a woman's pursuit of the perfect man to provide all her needs.

THE ALMIGHTY $. SOME PEOPLE PRAY FOR IT.
SOME PEOPLE PRAY TO IT.

Thirty-four-year-old Klarke Taylor has two children, a pile of bills and creditors who won't leave her alone. And she's had just about enough. So Klarke and her confidants, Breezy and Jeva, resort to devising a shady plan to snag her a man who will make all her monetary dreams come true.

Reo Laroque, is a bestselling author and is right where he always dreamed of being in life. He has it all, including women who come out in droves for this high-ticketed bachelor. But all Reo wants is a virtuous woman to claim as his own. Now Klarke has him in her sights and he soon becomes entangled in a twisted pursuit or love, lust and the almighty dollar.
About the Author
---
Joylynn M. Jossel, the Essence bestselling author of Dollar Bill, When Souls Mate, The Root of All Evil, and If I Ruled the World, is a graduate of Columbus State Community College, where she received her associate's degree, and Capital University, where she received her bachelor's degree. She is a native of Columbus, Ohio but now resides in Las Vegas, Nevada with her family.
Praise For…
---
"An emotional roller coaster. . .brilliant twists, turns, ups and downs that surround a suspenseful plot." —Nikki Turner, #1 Essence bestselling author of A Hustler's Wife

"Edge of your seat thrilling, sensual, humorous and romantic." —Vickie Stringer, Essence bestselling author of Let That Be the Reason and Imagine This