Standoff: Race, Policing, and a Deadly Assault That Gripped a Nation (Paperback)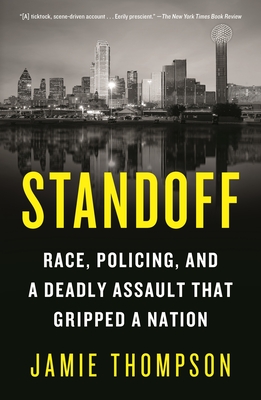 $18.99
Email or call for price
Description
---
Standoff is award-winning journalist Jamie Thompson's gripping account of a deadly night in Dallas, told through the eyes of those at the center of the events, who offer a nuanced look at race and policing in America.

On the evening of July 7, 2016, protesters gathered in cities across the nation after police shot two Black men, Philando Castile and Alton Sterling. As officers patrolled a march in Dallas, a young man stepped out of an SUV wearing a bulletproof vest and carrying a high-powered rifle. He killed five officers and wounded eleven others.

It fell to a small group of cops to corner the shooter inside a community college, where a fierce gun battle was followed by a stalemate. The crisis negotiator Larry Gordon, a twenty-one-year department veteran, spent hours bonding with the gunman—over childhood ghosts and death and shared experiences of racial injustice in America—while his colleagues devised an unprecedented plan to bring the night to its dramatic end.

Thompson's minute-by-minute account includes intimate portrayals of the negotiator, a surgeon who operated on the fallen officers, a mother of four shot down in the street, and the SWAT officers tasked with stopping the gunman. This is a deeply affecting story of real people navigating a terrifying crisis and a city's attempts to heal its divisions.
About the Author
---
Jamie Thompson covered the Dallas police shooting for the Washington Post. Her later account of that night for the Dallas Morning News won an Edward R. Murrow Award for excellence in writing. She has been a contributing editor for D Magazine and an associate professor of journalism at the University of Dallas. Her work also has appeared in Texas Monthly and the Tampa Bay Times.
Praise For…
---
A Kirkus Reviews Best Nonfiction Book of 2020

"A fine and powerful narrative…As with any good book, Standoff brims with strong characters. One of the more compellingly drawn is Larry Gordon…It's a profile so effectively rendered that it's not hard to see, say, Denzel Washington playing Gordon in a movie version of Standoff."
—The Dallas Morning News

"[A] ticktock, scene-driven account…eerily prescient."
—The New York Times Book Review

"In Standoff, Jamie Thompson elegantly tells the story of one of the deadliest days in the history of American law enforcement. She deftly weaves dozens of individual stories into one, transforming her subjects from characters into fully formed people. While it's a moving, intimate account of the officers who faced terror that day, it goes even further—placing the day's events into the broader context of a nation grappling with issues of race and justice. A true public service for those of us who hope we can find a way to close the gap in trust between American police and the communities they serve."
—Wesley Lowery, Pulitzer Prize-winning journalist and author of the New York Times bestselling They Can't Kill Us All: Ferguson, Baltimore and a New Era in America's Racial Justice Movement

"A thrilling read that is as moving as it is riveting and cinematic. So meticulously reported that I often had to remind myself that it was nonfiction, this is a book that tells a big story about race, policing and politics while managing never to be heavy-handed about its message. Thompson is a writer of rare talent and perception."
—Mitchell Zuckoff, New York Times bestselling author of 13 Hours and Lost in Shangri-La

"By digging with such honesty into the heroics and heartbreaks of an American mass shooting, Jamie Thompson has written a crucial, clear-eyed, and deeply moving book about the people among us who want to ruin lives and the better people among us who want to save them. I was immersed in Standoff from beginning to end because of the understanding it gave me about the seemingly inexplicable, and also because it's an absolute page-turner of a story."
—David Finkel, Pulitzer Prize-winning journalist and author of Thank You For Your Service

"Spellbinding and meticulously researched…This standout account is both a riveting page-turner and a nuanced portrait of one of contemporary America's most divisive social issues."
—Publishers Weekly, *starred review*

"Standoff, Jamie Thompson's deeply researched and elegantly rendered account of the Dallas police shootings, lays the compelling experience of the individual against the insidious tides of racism and violence within our society. The events of July 7th, 2016 are gripping and terrifying. The political, social, and historical structures surrounding these hours are meticulously explored and illuminating. And each individual navigating decisions with mortal consequences shimmers with life, each offering a stunning depth of experience and perspective—not only into the courage of their various professions, but into the soul of a fragile, resilient country."
—Jeff Hobbs, New York Times bestselling author of The Short and Tragic Life of Robert Peace

"A nail-biting and nuanced true-life police procedural."
—Kirkus Reviews, *starred review*

"Standoff takes readers into the heart-pounding hours when a gunman opened fire on Dallas area police during a peaceful Black Lives Matter rally. The story unfolds within the broader complex intersection of police shootings of black men and an entire community's reliance on law enforcement to protect its citizens, at no time more than when mass shootings like this one unfold. Standoff is a must-read to understand these critical issues that continue to plague America."
—Jennifer Berry Hawes, author of Grace Will Lead Us Home

"It's amazing what Jamie Thompson has been able to pull off—taking us inside the Dallas Police Department during a single day of terror. She gives us a searing, intimate account of a group of officers who put their lives on the line to save innocent citizens and who then come up with a remarkable plan to bring down a killer. Standoff is a saga of chaos, tragedy, and stunning heroism."
—Skip Hollandsworth, New York Times bestselling author of The Midnight Assassin