Not Your Crush's Cauldron (Supernatural Singles #3) (Paperback)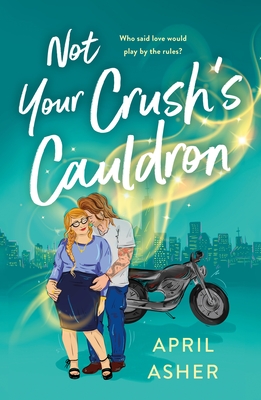 $18.00

Coming Soon - Available for Pre-Order Now
Other Books in Series
This is book number 3 in the Supernatural Singles series.
Description
---
In April Asher's next Supernatural Singles novel, Not Your Crush's Cauldron, a buttoned-up witch takes a stroll on the wildish side, sparking an alert that lands her a familiar Guardian Angel.

Olive Maxwell much prefers teaching about the Supernatural world to taking part in it and leaves the magical shenanigans to her two sisters. After assigning her college students a project designed to nudge them outside their comfort zones, Olive realizes she's never once stepped a toe out of her own . . . and it's about time that changed. Her first trip into the unknown? Moving in with her longtime crush and friend . . . tattooed, motorcycle-riding, and pleasantly pierced Baxter Donovan.

Bax Donovan, Guardian Angel not-so-extraordinaire, has acquired so many black marks on his record it looks like a Scantron test. He's been given one last chance to keep his Guardian wings—a high-profile Assignment he knows all too well. Olive is usually as low-risk as it gets. Hell, she wrote the safety manual. But something landed her on the Guardian Angel Affairs radar, and he guesses it has something to do with the heart-pounding stunts she's determined to check off her Dare I Docket list.

Keeping Olive out of trouble is about to be his toughest Assignment. He's at real risk of shattering the only Guardian Angel code of conduct rule he's yet to break: Don't fall in love with your Assignment. And he isn't so sure that's a bad thing.

If love doesn't play by the rules, why should they?
About the Author
---
April Asher, aka April Hunt, was hooked on romantic stories from the time she first snuck a bodice-ripper romance out from her mom's bedside table. She now lives out her own happily-ever-after with her college-sweetheart husband, their two children, and a cat who thinks she's more dog—and human—than feline. By day, April dons dark blue nursing scrubs and drinks way too much caffeine. By night, she still consumes too much caffeine, but she does it with a laptop in hand, and from her favorite side of the couch.

From the far left cushion, April Asher pens laugh-out-loud romantic comedies with a paranormal twist, but when she's not putting her characters into embarrassing situations with supernatural entities, she also writes high-octane romantic suspense as April Hunt, her thrill-seeking alter ego who has written the Alpha Ops and Alpha Security series.
Praise For…
---
"The third 'Supernatural Singles' book (after Not Your Ex's Hexes) is an excellent edition to the Maxwell sisters' fun and steamy shenanigans." - Library Journal