A Reckless Match (Ruthless Rivals #1) (Mass Market)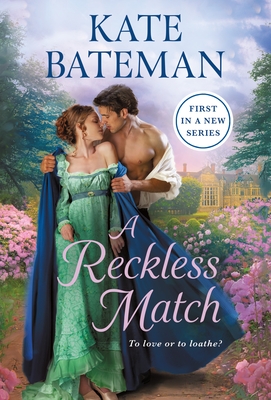 $8.99

Usually Ships in 1-5 Days
Other Books in Series
This is book number 1 in the Ruthless Rivals series.
Description
---
"Kate Bateman's writing sparkles." - USA Today bestselling author Laura Lee Guhrke

Meet the Davies and Montgomery families - two households locked in an ancient feud, destined to be on opposing sides forever. Until now...

CAN LIFELONG HATE

Madeline Montgomery grew up despising––and secretly loving––the roguish Gryffud "Gryff" Davies. Their families have been bitter rivals for hundreds of years, but even if her feelings once crossed the line between love and hate, she's certain Gryff never felt the same. Now, she's too busy saving her family from ruin to think about Gryff and the other "devilish" Davies siblings. Since he's off being scandalous in London, it's not like she'll ever see him again...

TURN TO TRUE LOVE

As the new Earl of Powys, Gryff Davies planned on spending his post-war life enjoying the pleasures of London. But when an illegal duel forces him to retreat to his family's Welsh castle, he realizes the only exciting thing in the dull countryside will be seeing the fiery Maddie Montgomery. Thoughts of his nemesis sustained Gryff throughout the war; but the girl he loved to tease has grown into a gorgeous, headstrong woman – who loathes him just as much as she ever did. Will secret tunnels, dangerous smugglers, and meddling from their feuding families be enough to make Maddie and Gryff realize that their animosity is really attraction...and maybe even love?

A Reckless Match is the first in a new regency romance series by Kate Bateman about two feuding families, and reunited childhood enemies whose hatred turns to love.
About the Author
---
Kate Bateman, (also writing as K. C. Bateman), is the #1 bestselling author of historical romances, including her RITA® nominated Renaissance romp, The Devil To Pay, the Bow Street Bachelors series (This Earl of Mine, To Catch an Earl, and The Princess and the Rogue), along with the novels in the Secrets & Spies series (To Steal a Heart, A Raven's Heart, and A Counterfeit Heart). When not writing novels that feature feisty, intelligent heroines and sexy, snarky heroes you want to both strangle and kiss, Kate works as a fine art appraiser and on-screen antiques expert for several popular TV shows in the UK. She splits her time between Illinois and her native England. Follow her on Twitter to learn more.
Praise For…
---
"Bateman launches a Regency trilogy with this pitch-perfect enemies-to-lovers romance centered on the feuding Montgomery and Davies families...Brimming with intrigue, passion, and humor, this is sure to win the author new fans." - Publishers Weekly (Starred Review)

"Heroic adventures and good deeds add to the fun, while secondary characters foreshadow delightful romances of their own in future installments." - Booklist

"A Reckless Match is sexy, sassy and distinctly divine. Explosive!" - Romance Junkies

"This smart Regency romance and its resilient heroine are sure to win over readers." - Publishers Weekly (Starred Review) on The Princess and the Rogue

"The Princess and the Rogue is a sweet, steamy, romantic, humorous, yet slightly angsty regency/historical romance deftly balanced with bits of mystery, royal intrigue, and action that readers will find hard to put down." - Affair de Coeur

"What's not to enjoy about a roguish former soldier and a Russian princess in disguise?...[A] thoroughly entertaining read." - BookPage on The Princess and the Rogue

"The Princess and the Rogue is a delightful Regency romance that'll leave readers with a smile." - Fresh Fiction

"An excellent story with delightful characters, including Seb's partners, The Princess and the Rogue is the perfect conclusion to this terrific series." - Romance Reviews Today

"Bateman loads her fast-paced heist with fun secret identity hijinks, clever characters, and sizzling romance. Series fans and new readers alike will be thrilled." - Publishers Weekly on To Catch an Earl

"Bateman's scintillating first Bow Street Bachelors Regency is full of intense emotions and dramatic twists. Intelligent, affable characters make this fast-paced novel shine, especially for fans of clever women and the men who sincerely admire them. Future installments will be eagerly anticipated by Regency readers." - Publishers Weekly (Starred Review) on This Earl of Mine

"Dashing, daring, and deliciously romantic!" - USA Today bestselling author Caroline Linden on This Earl of Mine

"Delicious, witty, and ripping good fun! Kate Bateman's writing sparkles." - USA Today bestselling author Laura Lee Guhrke on This Earl of Mine

"A riveting new voice for Regency readers! Kate Bateman is now on my auto-buy list." - Janna MacGregor, author of The Good, the Bad, and the Duke on This Earl of Mine