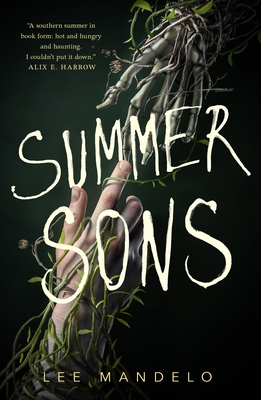 $18.99

Usually Ships in 1-5 Days
Description
---
Lee Mandelo's debut Summer Sons is a sweltering, queer Southern Gothic that crosses Appalachian street racing with academic intrigue, all haunted by a hungry ghost.

Andrew and Eddie did everything together, best friends bonded more deeply than brothers, until Eddie left Andrew behind to start his graduate program at Vanderbilt. Six months later, only days before Andrew was to join him in Nashville, Eddie dies of an apparent suicide. He leaves Andrew a horrible inheritance: a roommate he doesn't know, friends he never asked for, and a gruesome phantom that hungers for him.

As Andrew searches for the truth of Eddie's death, he uncovers the lies and secrets left behind by the person he trusted most, discovering a family history soaked in blood and death. Whirling between the backstabbing academic world where Eddie spent his days and the circle of hot boys, fast cars, and hard drugs that ruled Eddie's nights, the walls Andrew has built against the world begin to crumble.

And there is something awful lurking, waiting for those walls to fall.
About the Author
---
Lee Mandelo is a writer, critic, and occasional editor whose fields of interest include speculative and queer fiction, especially when the two coincide. His debut novel Summer Sons, which has been featured in NPR and the Chicago Review of Books, is a contemporary southern gothic dealing with queer masculinity, fast cars, and ugly inheritances. Other work can be found in magazines such as Tor.com, Uncanny, and Nightmare; he has also been a past nominee for awards including the Nebula, Lambda, and Hugo. Aside from a stint overseas learning to speak Scouse, Mandelo has spent his life ranging across Kentucky, currently living in Louisville and pursuing a PhD at the University of Kentucky.
Praise For…
---
An NBC News Best Book!

A New York Public Library Book of the Day!

"Summer Sons is a southern summer in book form: hot and hungry and haunting. I couldn't put it down." —Alix E. Harrow

"Truly intense: you can smell the blood, the sweat, and the petrol. It absolutely rips." —Tamsyn Muir

"At once a raw, beautifully written gothic and an adrenaline-fueled debut, Summer Sons heralds a rich new voice in speculative fiction. Lee Mandelo is for real." —Andy Davidson

"Intense, sweaty, and literally haunting, Summer Sons is the Southern gothic tale of race cars and graduate school I didn't know I needed. Come for the slow-burn relationships, and stay for the scalding hot twists." —Annalee Newitz

"Mandelo's visceral writing tugs at readers' hearts as well as their amygdalas. Alternating between discussions of identity and sexuality, the horror of grief and an actual haunting, it is part The Fast and the Furious, part The Shining and part Ninth House." —BookPage starred review

"Full of angst and lingering spirits, Mandelo's debut is like Tennessee molasses—dense, dark, slow-moving, and with a distinct Southern flavor." —Publishers Weekly

"Hooks you hard and fast from the start, then drags you kicking and screaming and loving it on a twisted backroad nightmare full of bad boys and badder revenants." —Sam J. Miller

"A gripping, gasoline-drenched story of ghosts, friendships, and things left unspoken." —Sarah Pinsker

"So visceral that you can feel the clammy sweat of fear and secrets, and it's full of the ugly rubbing edges of masculine frustration that's both the desire for violence, and desire itself." —Shelley Parker-Chan

"By turns scary, sexy, and irreverent, Summer Sons is packed with a youthful intensity that frequently dives aside into strange and wistful sadness." —The Chicago Review of Books

"Part nefarious ghost story, part academic thriller, with a Fast & Furious vibe, this compelling tale of mortal danger and dark supernatural power also thoughtfully grapples with notions of masculinity." —Library Journal

"Summer Sons blends an academic setting with a healthy dose of body horror and powerful themes of redemption and queer yearning in a narrative that starts slowly and speeds over the finish line." —Booklist