Native Country of the Heart: A Memoir (Paperback)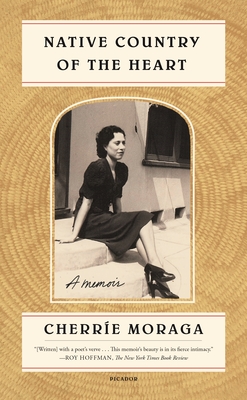 $17.00

Usually Ships in 1-5 Days
Description
---
"This memoir's beauty is in its fierce intimacy." --Roy Hoffman, The New York Times Book Review

One of Literary Hub's Most Anticipated Books of 2019

From the celebrated editor of This Bridge Called My Back, Cherríe Moraga charts her own coming-of-age alongside her mother's decline, and also tells the larger story of the Mexican American diaspora.

Native Country of the Heart: A Memoir is, at its core, a mother-daughter story. The mother, Elvira, was hired out as a child, along with her siblings, by their own father to pick cotton in California's Imperial Valley. The daughter, Cherríe Moraga, is a brilliant, pioneering, queer Latina feminist. The story of these two women, and of their people, is woven together in an intimate memoir of critical reflection and deep personal revelation.

As a young woman, Elvira left California to work as a cigarette girl in glamorous late-1920s Tijuana, where an ambiguous relationship with a wealthy white man taught her life lessons about power, sex, and opportunity. As Moraga charts her mother's journey—from impressionable young girl to battle-tested matriarch to, later on, an old woman suffering under the yoke of Alzheimer's—she traces her own self-discovery of her gender-queer body and Lesbian identity, as well as her passion for activism and the history of her pueblo. As her mother's memory fails, Moraga is driven to unearth forgotten remnants of a U.S. Mexican diaspora, its indigenous origins, and an American story of cultural loss.

Poetically wrought and filled with insight into intergenerational trauma, Native Country of the Heart is a reckoning with white American history and a piercing love letter from a fearless daughter to the mother she will never lose.
About the Author
---
Cherríe Moraga is a writer and cultural activist whose work serves to disrupt the dominant narratives of gender, race, sexuality, feminism, indigeneity, and literature in the United States. A co-founder of Kitchen Table: Women of Color Press, Moraga co-edited the highly influential volume This Bridge Called My Back: Writings by Radical Women of Color in 1981. After twenty years as an Artist-in-Residence in Theater at Stanford University, Moraga was appointed a professor in the Department of English at the University of California, Santa Barbara in 2018, where, with her artistic partner Celia Herrera Rodríguez, she instituted Las Maestras Center for Xicana Indigenous Thought and Art Practice. She is the recipient of a National Endowment for the Arts Theatre Playwriting Fellowship Award and a United States Artist Rockefeller Fellowship for Literature.
Praise For…
---
"[Written] with a poet's verve . . . As a character, fortunately, Elvira is resonant enough to withstand any effort to render her emblematic, a symbol of a culture and of the past. This memoir's beauty is in its fierce intimacy." --Roy Hoffman, The New York Times Book Review

"Bracing . . . expertly told in Moraga's lucid prose . . . Immigration is always fraught with danger and uncertainty, but Native Country offers some solace for those settling anew." --Sean McCoy, Los Angeles Times

"A masterpiece of literary art . . . In her daughter's account of her mother's time on earth, the grandeur is there, as is the desire and the disappointment. Elvira Isabel Moraga's tale is of a great spirit trapped in a tiny life. Cherríe Moraga's triumph is to have turned that life into great literature." --Michael Nava, Los Angeles Review of Books

"[Native Country of the Heart] chronicles both a Mexican American coming-of-age story, as well as a coming-of-old-age story that, with warmth and a knack for intimate detail, inscribes two generations of women into the Mexican American literary canon . . . Moraga waxes poetically, philosophically and politically about the importance of memory, treating its preservation like a Holy Grail. With this book, Moraga is keeping her mother on her earth, capturing her, tethering her to the living." --Myriam Gurba, Ms.

"[Moraga] paved the way for writers like myself to write our truths today. Moraga's latest, Native Country of the Heart, is a deep meditation on memory . . . Moraga explores memory in relation to her mother but as well Mexican-Americans' indigenous roots. Moraga's beautiful prose and deep reflective questions related to her mother's decline and this cultural amnesia are things we find ourselves asking for a lifetime." --Yvonne S. Marquez, Autostraddle

"Exquisite . . . Native Country of the Heart makes powerful statements about what is gained and lost in the pursuit of the American dream, and how the same place that affords privilege and opportunity, also demands sacrifice and surrender. Heart-wrenching and heartwarming, Moraga's memoir delivers new insights into the acclaimed writer's creativity." --Rigoberto González, NBC News

"A reclamation of the stories that fade away if they're unwritten or unrecounted . . . Through Elvira, Moraga helps us better understand the struggles of working-class women and complicate our understanding of how their history has shaped their current reality . . . Native Country of the Heart is ultimately about bonds between women and a testament to the love and space we hold within ourselves for one another." --Roberta Nin Feliz, Bitch Media

"[A] moving portrait . . . A sympathetic portrait of Mexican-American feminism (both in mother and daughter) delivered in a poignant, beautifully written way." --Kirkus (starred review)

"[Native Country of the Heart] does what the best memoirs can do: offers a glimpse into one particular life, but in a way that allows readers to see the world in a slightly different light after turning the last page." --Kerry McHugh, Shelf Awareness (starred review)

"A memoir that transcends chronology and the personal . . . Moraga's determination to honor her mother while encouraging Mexican Americans to uncover and rescue their own forgotten legacies is a tour de force recommended for every collection." --Booklist

"Perceptive and striking . . . For anyone who is hovering between two cultures, two countries, two parents, two ideals, two sexualities, two kinds of love, and a mother who is painfully present and disappearing." --Valerie Morales, Women's Review of Books

"I love A Native Country of the Heart's forthright blending of a bio of Moraga's intriguing powerhouse mom, Elivira, with Moraga's own queer evolution. And that the intimate facts of Cherríe Moraga's family history get embedded alongside such valuable public secrets as the mass deportation of Mexican workers during the depression so that dust bowl farmers could have their jobs. This book is a coup." —Eileen Myles, author of Afterglow

"A beautiful, painful, funny, heartening and heartfelt immersion in the life of one of the leading voices of Latino/a literature, our very own Cherríe Moraga. Part elegy, part history and part testimonio rife with storytelling, Native Country of the Heart, like all of Moraga's work, charts the unmapped and unspoken territories of body, mind, heart and soul and refuses to be confined by any border or genre. Her memoir is a defiant, deep and soulful book about all our mothers, mother cultures, motherlands and languages. Telling her own mother Elvira's story is both a political and ceremonial act. "We were not supposed to remember," Moraga writes. She does remember, and in this moving and brave book she gives us all a reckoning our country needs now. —Julia Alvarez, author of In the Time of the Butterflies

"Cherríe Moraga, a foundational contributor to modern Feminism, grapples with her fierce but withholding Mexican mother who—despite their struggles—remains her strongest touchstone of identification. A raw and vulnerable story of acceptance hard won." —Sarah Schulman, author of The Cosmopolitans and Conflict is Not Abuse

"In crisp prose and poetic diction, Cherríe Moraga enlivens her irrepressible mother with shape and story, sadness and charm, abriendo puertas to memory and forgetting, how interlocked they are, to how ghosts and people occupy the same space. It is a journey of deep personal discovery that is riveting and necessary." —Luis J. Rodríguez, author of Always Running: La Vida Loca, Gang Days in L.A.

"This a great book. In telling her mother's life-story Cherríe Moraga ruthlessly examines her own heart and the deep complications of growing up mixed race and lesbian in a racist culture. But she also lays bare the spiritual core that strengthens and sustains her. The heart, the soul, familia and tribe, the native country is as narrow as the space between clenched fingers and as wide as the sightlines to the horizon." —Dorothy Allison, author of Bastard Out of Carolina