Once There Were Wolves (Hardcover)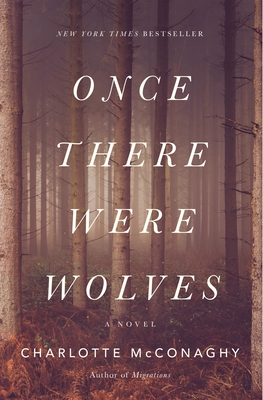 Staff Reviews
---
Fans of Charlotte McConaghy's writing will not be surprised to learn that her latest novel is both fraught with suspense and graced with beauty. In a small town in the Scottish Highlands, ranchers fear that wolves threaten their way of life, but American Inti Flynn and her fellow biologists are determined these master predators are the key to bringing balance back to the ecosystem. Inti's ability to feel the sensations of others in the natural world has helped forged a bond between her and the wolves, but that bond is tested when violence erupts, and she is forced to consider who the real predators are in their midst. There is more than one mystery in Inti's story, but McConaghy skillfully unravels them all and, in turn, reveals the mysterious and often misunderstood nature of both wolf and man and the connections between us all.
— From
Elaine & Luisa's Picks: Summer 2021
August 2021 Indie Next List
---
"Telling of the reintroduction of wolves to the Scottish highlands, Once There Were Wolves affirms the importance of our connections to the human and more-than-human worlds that sustain us, worlds we sever at our own peril."
— Ben Platt, Jackson Hole Book Trader, Jackson, WY
Description
---
* INSTANT NEW YORK TIMES BESTSELLER *

From the author of the beloved national bestseller Migrations, a pulse-pounding new novel set in the wild Scottish Highlands.

Inti Flynn arrives in Scotland with her twin sister, Aggie, to lead a team of biologists tasked with reintroducing fourteen gray wolves into the remote Highlands. She hopes to heal not only the dying landscape, but Aggie, too, unmade by the terrible secrets that drove the sisters out of Alaska.

Inti is not the woman she once was, either, changed by the harm she's witnessed—inflicted by humans on both the wild and each other. Yet as the wolves surprise everyone by thriving, Inti begins to let her guard down, even opening herself up to the possibility of love. But when a farmer is found dead, Inti knows where the town will lay blame. Unable to accept her wolves could be responsible, Inti makes a reckless decision to protect them. But if the wolves didn't make the kill, then who did? And what will Inti do when the man she is falling for seems to be the prime suspect?

Propulsive and spell-binding, Charlotte McConaghy's Once There Were Wolves is the unforgettable story of a woman desperate to save the creatures she loves—if she isn't consumed by a wild that was once her refuge.
About the Author
---
Charlotte McConaghy is the author of the novels Migrations, a national bestseller that is being translated into over twenty languages, and Once There Were Wolves. She is based in Sydney, Australia.
Praise For…
---
Instant New York Times Bestseller
Instant Los Angeles Times Bestseller
Instant Washington Post Bestseller
Instant Indie Bestseller
#1 IndieNext Pick
Book of the Month Club Selection

A Most Anticipated Book (Entertainment Weekly, Newsweek, Good Morning America, Bustle, Scientific American, Publishers Weekly, Sydney Morning Herald, BookRiot, Thrillist, PopSugar, AARP)

"Blazing…Visceral…As McConaghy shows in this stunning book, the limits of language lead us to the limits of empathy."
—Los Angeles Times

"This heart-pounding novel digs into the complex relationships between humans—and the creatures with which we share the natural world."
—Newsweek

"Suspenseful and poignant…[Inti's] story unfolds as a meditation on the social and scientific consequences of influencing ecosystems, while reminding us that humans and animals alike can break our hearts."
—Scientific American

"Lyrical, captivating, thought-provoking and thrilling, this immersive read will capture your attention from the first page."
—Good Morning America

"Bold…A heartfelt and earnest novel."
—The New York Times Book Review

"Gripping and often very moving…Despite the darkness and pain at the heart of McConaghy's novel, it is not a bleak book. Instead, it bears within it an argument about the possibility of change. Recognizing the presence of other ways of being, of other minds and presences enlarges us, affording us a glimpse of the unknowable."
—The Sydney Morning Herald

"Far more than an old wolves' tale. Instead, it illustrates what it's like to be an outsider—from both a human and animal perspective—and the level of healing and acceptance it takes from within to be accepted and to accept yourself."
—Electric Literature

"The Australian author made waves with last summer's Migrations, a meditation on climate change and loneliness, and returns with a new story set in the Scottish Highlands, where two twin sisters join a team attempting to reintroduce a pack of wolves to their natural surroundings."
—Entertainment Weekly

"Spellbinding…Charlotte McConaghy has once again created a world where we must balance trust and fear, humanity and nature."
—Washington Independent Review of Books


"From the author of 2020's gorgeous Migrations comes a similarly earth-shattering tale of humanity's influence on the natural world."
—Thrillist

"Urges us to take a lesson from the wolves, and learn to lean on one another."
—BookRiot

"A lyrical novel with a wild heart."
—PopSugar

"A moving, moody story by the author of the 2020 novel Migrations."
—AARP

"This poetic and atmospheric novel is a mystery, a celebration of wolves, and a tribute to those who work to rewild our landscapes."
—EcoLit Books

"McConaghy excels at conveying the sensuous experience of nature and the emotions it provokes: wonder at its majesty, sorrow at its destruction. Unflinching in its view of the harm humans inflict on the environment and on each other—and insisting on the interconnectedness of the two—Once There Were Wolves delivers a powerful call for hope in the face of catastrophe."
—Shelf Awareness

"Intense, emotional and rich with beautifully rendered prose, McConaghy's novel is a powerful meditation on humanity, nature and the often frightening animalistic impulses lurking within us all…Another triumph for a rising fiction star, offering an intensely realized world for readers to get lost in."
—BookPage (starred review)

"Vividly realized… Gorgeously rendered…A story full of subtle surprises…This is a stunner."
—Publishers Weekly (starred review)

"Poetic…A lovely, gripping tale about a world that could be our own."
—Kirkus (starred review)

"McConaghy infuses Inti's adventures with ravishing descriptions of the landscape and the 'infinite mysteries of wolves'… McConaghy's richly plotted tale of suspense and psychological insight poses provocative questions about predators and humanity's impact on Earth."
—Booklist

"One of those very rare, special novels that changes you as you read, which you do as slowly as you can because you want to savor it, except the pages keep turning furiously because the story is so thrilling and so powerful, with some of the best characters I have ever read. Charlotte McConaghy has cemented herself as a sure-thing, must-read writer for me."
—Laurie Frankel, New York Times bestselling author of This Is How It Always Is

"So damn good. A page-turner that makes you think and has a huge emotional impact."
—Jeff VanderMeer, New York Times bestselling author of Annihilation (via Twitter)

Praise for Migrations

"True and affecting, elegiac and imminent…[Filled] with suspense and surprises, parceled out so tantalizingly that it took disciplined willpower to keep from skipping down each page to see what happens."
—The Washington Post

"Visceral and haunting…This novel's prose soars with its transporting descriptions…Migrations is a nervy and well-crafted novel, one that lingers long after its voyage is over."
—The New York Times Book Review

"Powerful…Vibrant…Unique…The novelistic equivalent of an energizing cold plunge."
—LA Times

"Suspenseful, atmospheric…As much a mystery as an odyssey."
—Vogue

"Thrilling…A detailed portrait of a woman on the cusp of collapse, consumed with a world that is every bit as broken as she is."
—TIME

"Gripping…By merging cli-fi and nature writing, the novel powerfully demonstrates the spiritual and emotional costs of environmental destruction."
—The Economist

"A good nautical adventure…Migrations moves at a fast, exciting clip, motored as much by love for 'creatures that aren't human' as by outrage at their destruction."
—The Wall Street Journal

"[A] tantalizingly beautiful epic."
—Elle

"You can practically hear the glaciers cracking to pieces and the shrill yelps of the circling terns."
—Vulture

"At a time when it feels like we're at the end of the world, this novel about a different kind of end of the world serves as both catharsis and escape."
—Harper's Bazaar

"An ode to our disappearing natural world."
—Newsweek

"This page-turner is captivating, enlightening and surprisingly full of hope."
—CNN.com

"Gorgeous…A personal reckoning that cuts right to the heart. This beautiful novel is an ode—if not an elegy—to an endangered planet and the people and places we love."
—Literary Hub

"Migrations is a gripping tale that ultimately celebrates the beauty and resilience of the creatures—human and animal—that endure."
—Sierra Magazine

"Migrations is as beautiful and as wrenching as anything I've ever read. This is an extraordinary novel by a wildly talented writer."
—Emily St. John Mandel, author of The Glass Hotel and Station Eleven

"This novel is enchanting, but not in some safe, fairy-tale sense. Charlotte McConaghy has harnessed the rough magic that sears our souls. I recommend Migrations with my whole heart."
—Geraldine Brooks, author of The Secret Chord and March