The Nine: The True Story of a Band of Women Who Survived the Worst of Nazi Germany (Hardcover)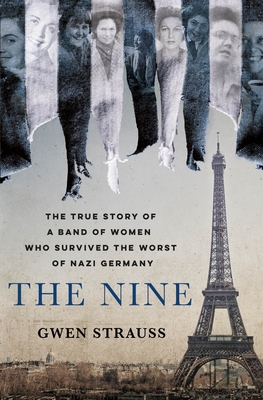 Staff Reviews
---
A fascinating look at the lives of nine female resistance fighters in World War II, The Nine reminds of the human faces behind the incredible stories of bravery and perseverance during one of the darkest hours of our time. Author Gwen Strauss is the niece of Hélène Podliasky, one of the nine women who met during the war when they were arrested by the Gestapo. Their daring escape from a German forced-labor camp and subsequent trek across Germany to Paris is brought to life with Strauss' vivid storytelling. These young women came from varying backgrounds, but they all risked their lives to fight against overwhelming odds. Backed by thorough research, Strauss has crafted a compelling picture of these unsung heroes as she details the courageous work they did and the bonds they formed.
— From
Elaine & Luisa's Picks: Spring 2021
Description
---
"[A] narrative of unfathomable courage... Ms. Strauss does her readers—and her subjects—a worthy service by returning to this appalling history of the courage of women caught up in a time of rapacity and war." —Wall Street Journal

"Utterly gripping." —Anne Sebba, author of Les Parisiennes

"A compelling, beautifully written story of resilience, friendship and survival. The story of Women's resistance during World War II needs to be told and The Nine accomplishes this in spades." —Heather Morris, New York Times bestselling author of Cilka's Journey

The Nine follows the true story of the author's great aunt Hélène Podliasky, who led a band of nine female resistance fighters as they escaped a German forced labor camp and made a ten-day journey across the front lines of WWII from Germany back to Paris.

The nine women were all under thirty when they joined the resistance. They smuggled arms through Europe, harbored parachuting agents, coordinated communications between regional sectors, trekked escape routes to Spain and hid Jewish children in scattered apartments. They were arrested by French police, interrogated and tortured by the Gestapo. They were subjected to a series of French prisons and deported to Germany. The group formed along the way, meeting at different points, in prison, in transit, and at Ravensbrück. By the time they were enslaved at the labor camp in Leipzig, they were a close-knit group of friends. During the final days of the war, forced onto a death march, the nine chose their moment and made a daring escape.

Drawing on incredible research, this powerful, heart-stopping narrative from Gwen Strauss is a moving tribute to the power of humanity and friendship in the darkest of times.
About the Author
---
GWEN STRAUSS' poems, short stories and essays have appeared in numerous journals including The New Republic, London Sunday Times, New England Review, and Kenyon Review and she has published a collection of poetry, Trail of Stones. She was born and spent her early years in Haiti. Strauss lives in Southern France, where she is the Director of the artist's residency program at the Dora Maar House.
Praise For…
---
Goodreads list of NEW & ANTICIPATED HISTORIES & BIOGRAPHIES

"Though the dangers the women face are significant, their unorthodox means of travel help contribute to an unexpected feeling of picaresque adventure, as the women lie and scavenge their way toward freedom... The women's bravery and ingenuity as they traverse an almost apocalyptic landscape makes for a thrilling narrative...Gripping." —Shelf Awareness

"An incredible story about the power of friendship and the faith in humanity in one of the darkest times in history." —Lee Woodruff

"[Strauss] gets her facts right... A breathless story of almost superhuman heroism and suffering with a (mostly) happy ending." —Kirkus

"A paean to female bravery and life-saving friendship." —iNews

"Intimate.. chilling... A moving testament to the power of friendship" —Booklist

"The Nine is poignant, powerful, and shattering, distilling the horror of the Holocaust through the lens of nine unforgettable women. Banding together in the hellscape of Ravensbruck, the nine resistance fighters turned prisoners make a desperate bid for escape in the chaos of the war's end, embarking across battle-ravaged Germany toward home. Gwen Strauss melds a poet's pen and a decade of research into a tale of friendship, courage, and indomitable will." —Kate Quinn, New York Times bestselling author of The Rose Code and The Alice Network

"This haunting account provides yet more evidence not only of the power of female friendship but that the often unrecorded courage and resilience of ordinary women must be honoured and celebrated. It's a most inspiring read...Utterly gripping." —Anne Sebba, author of Les Parisiennes

"I love this book. It delivers beauty, grace, horror, and suspense—an important work that also happens to be a hell of a read!" —Anthony Swofford, author of Jarhead

"Strauss, niece of one of the nine heroines and third-generation 'Witness of the Witnesses', answers questions and challenges with great finesse. In a writing of rare historical accuracy and deep empathy, a woman of today tells the stories of yesterday." —Agnès Triebel, Secretary General of the International Buchenwald-Dora Committee

"With Gwen Strauss' book and the scope of her research, that whole unknown period came to me as a gift from heaven... The precision of the speech, the delicacy of the style, the joys and misfortunes brought tears that I was happy to shed." —Marc Spijker, Guigui's son

"At this moment of worldwide chaos and despair, this is a book that reminds us about what is important, and about finding strength and purpose during the worst of times. Highly recommended." —Goldie Goldbloom, author of Paperbark Shoe and On Division.

"It's high time we got our Band of Sisters, and there could be no better author to tell their story than the riveting and rigorous Strauss. Equal parts exhilarating, devastating, and inspiring." —Lauren Sandler, author of This is All I Got