The 130-Story Treehouse: Laser Eyes and Annoying Flies (The Treehouse Books #10) (Hardcover)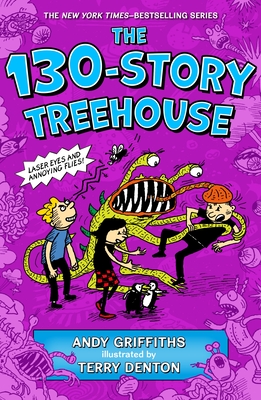 Other Books in Series
This is book number 10 in the The Treehouse Books series.
Description
---
New York Times-bestselling team Andy Griffiths and Terry Denton invite readers to come hang out with them in their 130-Story Treehouse—the tenth book in the illustrated chapter book series filled with Andy and Terry's signature slapstick humor!

Andy and Terry live in a 130-story treehouse. (It used to be a 117-story treehouse, but they added another 13 stories.) It has a soap bubble blaster, a time-wasting level, a 13-story igloo, the GRABINATOR (it can grab anything from anywhere at any time), a toilet paper factory, and an extraterrestrial observation centre for observing aliens.

As it turns out, though, it's Andy, Terry and Jill who are being observed—and then abducted—by a giant flying eyeball from outer space! At first they're excited to be going on an intergalactic space adventure, but when they arrive on Planet Eyeballia, they discover it's not at all a friendly place. Will the gang be able to escape and get back to Earth and write their book before time runs out?

Praise for Andy Griffiths and the Treehouse series:

"Anarchic absurdity at its best. . . . Denton's manic cartooning captures every twist and turn in hilarious detail." —Publishers Weekly, starred review, on The 13-Story Treehouse

"Will appeal to fans of Jeff Kinney and Dav Pilkey. . . . The wonderfully random slapstick humor is tailor-made for reluctant readers. . . . A treat for all." —Booklist on The 13-Story Treehouse

Read the whole series!
The 13-Story Treehouse
The 26-Story Treehouse
The 39-Story Treehouse
The 52-Story Treehouse
The 65-Story Treehouse
The 78-Story Treehouse
The 91-Story Treehouse
The 104-Story Treehouse
The 117-Story Treehouse
The 130-Story Treehouse

About the Author
---
Andy Griffiths is the New York Times bestselling author of The Day My Butt Went Psycho!, Zombie Butts from Uranus!, and Butt Wars! The Final Conflict, as well as the Treehouse Series and Killer Koalas from Outer Space. In 2007, he became the first Australian author to win six children's choice awards in one year for Just Shocking! He is passionate about inspiring a love of books in his young readers, and works as an ambassador for the Indigenous Literacy Project, which provides books and literacy resources to remote indigenous communities around Australia. Andy is a big fan of Dr. Seuss and of cauliflower. He lives in Melbourne, Australia, and is Australia's most popular children's writer.

Terry Denton is known for his humorous illustration style and has worked with Andy Griffiths on the Treehouse series and the JUST! books among others. He lives by the sea in Australia with his wife, three kids, and a pop-up toaster that only toasts on one side.
Praise For…
---
Andy Griffiths and the Treehouse series:

A New York Times Bestselling Series!

"The Treehouse books are a perfect balance of minimal text, maximum black-and-white drawings packed with jokes, and unbelievable amounts of nonstop action, gags and exuberant, anarchic storytelling. These books seem ideally designed to make a new reader feel—and be—successful." —The New York Times

"Anarchic absurdity at its best . . . Denton's manic cartooning captures every twist and turn in hilarious detail." —Publishers Weekly, starred review, on The 13-Story Treehouse

"Will appeal to fans of Jeff Kinney and Dav Pilkey . . . The wonderfully random slapstick humor is tailor-made for reluctant readers . . . A treat for all." —Booklist on The 13-Story Treehouse

"Twice the treehouse, twice the fun? You bet . . . Denton's furiously scrawled line drawings milk the silly, gross-out gags for everything they're worth. Kids should be flipping pages faster than a pair of inflatable underpants can skyrocket the young heroes to safety." —Publishers Weekly, starred review, on The 26-Story Treehouse

"This zany sequel, as much cartoon illustration as text, is an almost nonstop adventure." —Booklist on The 26-Story Treehouse