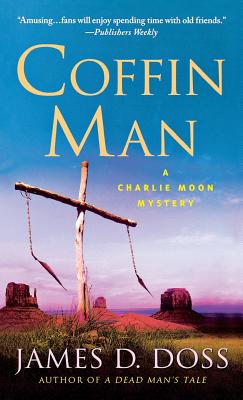 $25.99

Usually Ships in 1-5 Days
Description
---
James Doss
Coffin Man
When a young lady vanishes, Colorado rancher and Ute tribal investigator Charlie Moon is the man to call--whether it's mystery, mysticism, or murder...
After a heavy storm, Charlie receives a panicked call from Wanda Naranjo. Not only is her sink leaking, but her daughter Betty is sixteen and pregnant--and missing. Where'd she go? No one knows. Who's the father? Anybody's guess. Any leads? Just the local bad-boy carpenter who's raising suspicion faster than he can build a pine box...
As if that wasn't enough of a bad omen, Charlie's Aunt Daisy seems to have lost her connection to the spirit world, a mysterious stranger has shown up at Charlie's ranch, and someone's found a dead body in the cemetery. A fresh dead body. Now Charlie's got to hunker down and dig up some evidence--before a killer puts the final nail in his coffin...
About the Author
---
JAMES D. DOSS is the author of fifteen previous Charlie Moon mysteries, two of which were among the Best Books of the Year by Publishers Weekly. Born in Kentucky, he divides his time between Los Alamos and Taos, New Mexico.