Mythographic Color and Discover: Aquatic: An Artist's Coloring Book of Underwater Illusions and Hidden Objects (Paperback)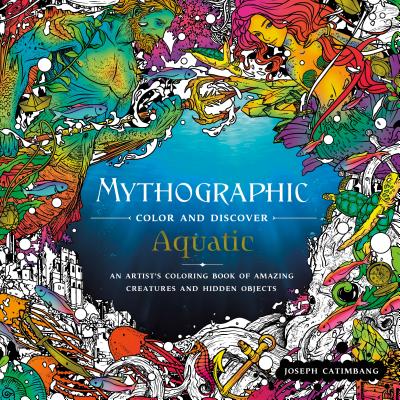 Description
---
Mythographic goes under the sea in this brand-new coloring book

Dive deep beneath the surface of your imagination...

- Take the helm of an artistic voyage with 50 incredible illustrations
- Discover the hidden objects waiting to be revealed in each place
- Color a captivating book of stunning illustrations and extraordinary scenes

Joseph Catimbang's Mythographic Color and Discover: Aquatic will take you on an immersive escape to creativity. Uncover the secrets of the ocean through the mesmerizing illustrations of a unique world that shifts from the lifelike to the illusory. Color this underwater realm of 50 stunning, hand-drawn illustrations, and uncover the hidden objects that are tucked into each one. Explore this oceanic dream world; unlock the mysteries of the imagination through vivid, vibrant color; and follow a beguiling journey through Mythographic Color and Discover: Aquatic.
About the Author
---
Joseph Catimbang is a self-taught Filipino-American illustrator and graphic designer based in Orange County, California. Known for his surreal and minimalist style, Joseph's art evokes emotion through incredible detail and dream-like perspectives to emphasize the natural world. Joseph's work is available for commission through his website.

His books include Mythographic Color and Discover: Animals.