Certain American States: Stories (Paperback)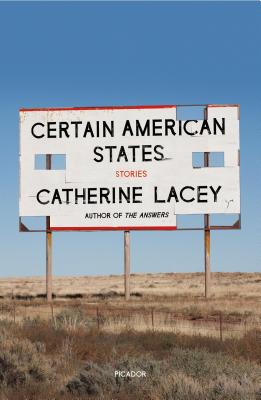 Description
---
One of The Wall Street Journal's Best Short Story Collections of 2018. Named a Summer Read by Vanity Fair, The Guardian, Nylon, Bustle and Literary Hub. One of Financial Times and TLS's Best Books of 2018.

One of Granta's Best Young American novelists, Catherine Lacey, the Whiting Award-winning author of The Answers, showcases her literary style in short fiction with Certain American States, a collection of stories about ordinary people seeking—and failing to find—the extraordinary in their lives.
About the Author
---
Catherine Lacey is the author of Nobody Is Ever Missing, winner of a 2016 Whiting Award and finalist for the Young Lion's Fiction Award, and The Answers. In 2017, she was named one of Granta's Best Young American Novelists. Her essays and fiction have been published widely and translated into Italian, French, Dutch, Spanish and German. She was born in Mississippi and is based in Chicago.
Praise For…
---
"Like Lydia Davis and Grace Paley (whom she sometimes resembles), Lacey can travel a great distance in a single paragraph or just a single sentence; and like those writers, she's masterly at using the unreliability of her narrators to suggest worlds of repressed confusion and poorly contained grief . . . Susan Sontag said of Paley that she was a natural, "with a voice like no one else's: funny, sad, lean, modest, energetic, acute." Those words will do well for Lacey's book, too." --James Wood, The New Yorker

"[Lacey's stories are] driven by an expressive energy, by uncontainable personality, wit and the restless need, in the plots as in the sentences, to get the hell away . . . [The characters'] continued failure to get away from marriages or family gives these stories a helpless sweetness – the realisation that to love people is to face your own mortality . . . Although Lacey's work can be sad, it is rarely monotone, never earnest." —Anne Enright, The Guardian

"If depression is a clouded lens that distorts reality, Lacey . . . is perhaps the finest crafter of these lenses in American fiction . . . On every page, she slips a tiny gem into your palm, a little miracle of perspective . . . Certain American States is exactly what you would expect from Lacey: perfect sentences, penetrating insights, devastating epiphanies." —Adam Morgan, Chicago Tribune

"Powerful . . . [Lacey's] careering, periodic sentences drive against the reader like meteorological events." --Sam Sacks, The Wall Street Journal

"[Lacey's prose is] complex, enigmatic, endlessly compelling . . . within these stories of loneliness and despair, grief, and searching, are threads of something more hopeful, an idea that as lost as we might feel, there is the possibility of finding ourselves, we just need to learn how to let go. So let's go." —Kristin Iversen, Nylon

"Here is a series of hilariously talky short stories--Lacey has a good ear for the inanities of both internal and out-loud conversation--that are nevertheless positively captivated by people failing to say things . . . [Each story] is anchored in the world of mundane things by bathos, which makes the collection human and funny and moving rather than tenebrous or abstract or pretentious. It lives in its long sentences and they have, well, a sort of momentum. Lacey is absolutely the real thing." —Sam Leith, Financial Times

"[A] collection of stories rife with sentences whose length and detached style work hand in hand to evoke emotions and encourage thinking and reflection." —Julia Vitale, Vanity Fair

"If a good metric for a book of the year is the extent to which you find yourself urging it on other people, Catherine Lacey's debut short story collection Certain American States scores highly . . . These struck me as quite remarkably original and good. She's the deftest sentence-maker I've read in ages, and what's more she's properly funny." --Sam Leith, Times Literary Supplement

"The laughs are welcome: the tone throughout the collection rarely wavers, ricocheting back to deadpan, whenever the volume is turned up even slightly. This could veer into sameness or repetition, but Lacey's skill – her approach to sentences is often ruthless economy – offers consistency. Somewhere out of all these words a cloud of empathy floats up . . . Lacey creates and amplifies these small lives, the voices that get left behind or barely register, but we can hear them, and we're listening." —Sinead Gleeson, The Irish Times

"[Lacey] is playful and smart, one of a generation of American women who seem entirely unafraid." —Anne Enright, The Guardian

"A deep dive into the human psyche, focusing on a memorable and flawed cast of narrators and their connections to others. There's an emotional richness to these stories as they deal with the recent end of long and meaningful relationships, whether due to death or divorce or simply the inevitable "airplanes of soon . . . Lacey's prose is fluid, frequently employs long streaming sentences that extend for a paragraph or even a page." --Caleigh Stephens, zyzzyva

"Lacey explores the effects of solitude and the strains of relationships in her stellar first story collection . . . On display is Lacey's trademark handle on the plight of characters who feel lost in their own lives, as well as her ability to enter the minds of her harried protagonists, making this collection a strong new showcase for her fiction." —Publishers Weekly

"[Lacey] continues to showcase her literary prowess . . . Readers will be drawn to Lacey's rhythmic, reflective prose and the stories she tells, which are filled with affecting emotional complexity just at the point of bursting." —Booklist

"Wryly devastating . . . The stories are exquisite: Every line is dry and spare and bracing, without a single syllable out of place. A fully realized vision." —Kirkus Reviews