There's No Plan B for Your A-Game: Be the Best in the World at What You Do (Paperback)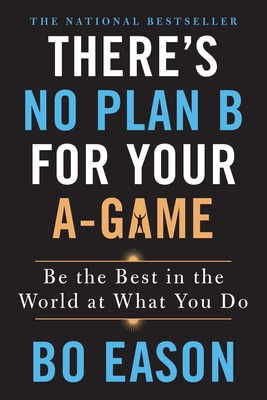 $17.99

Usually Ships in 1-5 Days
Description
---
Now in paperback: the Washington Post, Wall Street Journal, USA Today, and Publishers Weekly Bestseller.

Can you become the best in the world at what you do? This book shows you how.

At nine years old, Bo Eason set a goal: to become the best free safety in the NFL. A scrawny kid from a small town, he was at first rejected by both his high school and college teams. But he went all-in, was drafted by the Houston Oilers in 1984, and became an All-Pro. Then he set a new goal: to become a great stage actor, though he had no background in theater. But he rehearsed constantly, sought out Al Pacino for guidance, and then wrote and acted in a one-man play that The New York Times called "one of the most powerful plays in the last decade."

Then he set yet another goal: to use his experience to teach others how to achieve their dreams. Bo Eason is now one of the most in-demand motivational speakers in the world, with numerous Fortune 500 company clients. In his first book, Bo Eason shows anyone how to be the best at what they do: the best leader, the best athlete, the best partner, the best parent. There's No Plan B for Your A-Game focuses on a winning four-step process:

Declaration: what do you want to achieve?; Preparation: how can you make it happen?; Acceleration: how will you find the motivation to achieve your goal?; Domination: how do you take others with you?

Anyone has the ability to be great; we're born with it. Using inspiring, practical guidance coupled with absolute accountability, Bo Eason teaches how.
About the Author
---
Bo Eason played free safety in the National Football League for the Houston Oilers and the San Francisco 49ers and was named All-Pro in his position. After his career ended, he became an actor and playwright, and wrote a one-man play called "Runt of the Litter" that enjoyed an extended off-Broadway and 50-city national run; the play is being developed as a major motion picture. Now, as a speaker and leadership coach, Bo trains some of the most successful people in the world—athletes, artists, entrepreneurs, and executives. He has consulted for a range of clients and Fortune 500 companies including Advisors Excel, Morgan Stanley, Mass Mutual, Guardian, Bank of America, and Merrill Lynch. He lives with his wife, Dawn, and their children in California.
Praise For…
---
"I've shared the stage with Tony Robbins, Sir Richard Branson, and the Dalai Lama. I am convinced that Bo Eason is the greatest speaker to grace the stage in decades." —Brendon Burchard

"Bo Eason offers a revealing testimony on what it takes to succeed in any field. Whether you're an artist, an athlete, or an entrepreneur, this book will put you to work." —Steven Pressfield, bestselling author of The War of Art and The Artist's Journey

"In this personal and candid book, Bo Eason tells you how to be best at what you do: by declaring who you really are and having the guts to live it. A must-read." —Dr. Kellyann Petrucci

"Bo uses his one-of-a-kind background as an NFL safety turned stage actor turned in-demand motivational speaker to tell us how to be our absolute best selves. If you want the kind of tough love advice that will drive you toward excellence, read There's No Plan B for Your A-Game." —JJ Virgin

"Bo Eason knows what it means to fulfill on your greatness and be the BEST. In There's No Plan B for Your A-Game, Bo gives you the play-by-play on how to embrace your obstacles and thrive in the face of any adversity. If you're looking for a Champion Mindset approach to a better you, this is a must read." —Laila Ali