The Creepy Case Files of Margo Maloo (Paperback)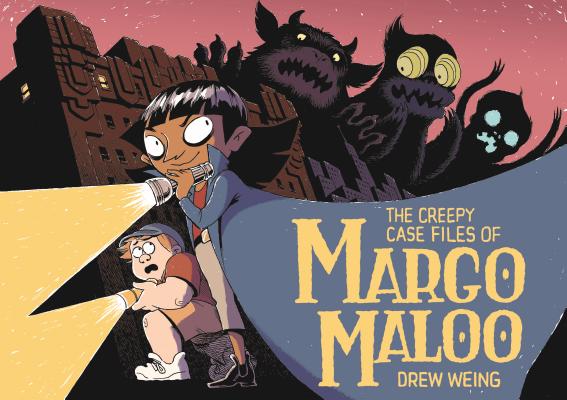 $10.99

Usually Ships in 1-5 Days
Other Books in Series
This is book number 1 in the The Creepy Case Files of Margo Maloo series.
Description
---
The first volume of a new middle-grade series, Drew Weing's The Creepy Case Files of Margo Maloo delivers a fresh and funny take on the age-old battle between kids and closet-dwelling monsters.

Charles just moved to Echo City, and some of his new neighbors give him the creeps. They sneak into his room, steal his toys, and occasionally, they try to eat him.

The place is teeming with monsters!

Lucky for Charles, Echo City has Margo Maloo, monster mediator. No matter who's causing trouble, Margo knows exactly what to do—the neighborhood kids say monsters are afraid of her. It's a good thing, because Echo City's trolls, ogres, and ghosts all have one thing in common: they don't like Charles very much.

A Kirkus Best of 2016 Book

"You're going to lie awake at night thinking about how fun this book is." –Adam Rex, author of The True Meaning of Smekday

"Margo Maloo is fantastic fun!" –Tom Angleberger, author of the Origami Yoda series

"Drew Weing's Creepy Casefiles, with its quirky kids, sympathetic beasties and hand-rendered coloring, reads like a classic children's title from decades past…if not for the astute, subtle observations on cultural dynamics within cities and the ripple effects of gentrification." —Paste Magazine

"Clever dialogue enhances this intriguing and multilayered story set in a fully realized world of monster and human coexistence."—Kirkus Reviews, starred review

"It's a beautifully conceived and executed trio of stories, and readers will hope that more installments are on the way."— Publisher's Weekly, starred review

"The banter is brisk and witty, and humans and monsters alike boast a refreshing ordinariness unusual in fantasy/horror/hero comics."—BCCB

"With a saturated color palette, noirish dialogue, and a thought-provoking message about gentrification, this first in a series (originally published as a webcomic) is packed with warm laughs and smart, spooky mystery."—Booklist

"Weing's colorful drawings reward extended examination; Echo City is rife with monster life, and creepy crawlies turn up in the most unexpected places, but domestic scenes and the city streets also show the artist's keen eye for details."—SLJ
About the Author
---
Drew Weing lives in Athens, GA with his wife, cartoonist Eleanor Davis, and too many cats. He makes comics for print and online, among which are the nautical graphic novel Set to Sea, the infinite canvas webcomic Pup, and the early reader comic Flop to the Top, which he co-authored with his wife.
Praise For…
---
Included in Kirkus's "Best of 2016" list.

"You're going to lie awake at night thinking about how fun this book is." –Adam Rex, author of The True Meaning of Smekday

"Margo Maloo is fantastic fun!" –Tom Angleberger, author of the Origami Yoda series

"Drew Weing's Creepy Casefiles, with its quirky kids, sympathetic beasties and hand-rendered coloring, reads like a classic children's title from decades past…if not for the astute, subtle observations on cultural dynamics within cities and the ripple effects of gentrification." —Paste Magazine

"Clever dialogue enhances this intriguing and multilayered story set in a fully realized world of monster and human coexistence."—Kirkus Reviews, starred review

"It's a beautifully conceived and executed trio of stories, and readers will hope that more installments are on the way."— Publisher's Weekly, starred review

"The banter is brisk and witty, and humans and monsters alike boast a refreshing ordinariness unusual in fantasy/horror/hero comics."—Bulletin of the Center for Children's Books

"With a saturated color palette, noirish dialogue, and a thought-provoking message about gentrification, this first in a series (originally published as a webcomic) is packed with warm laughs and smart, spooky mystery."—Booklist

"Weing's colorful drawings reward extended examination; Echo City is rife with monster life, and creepy crawlies turn up in the most unexpected places, but domestic scenes and the city streets also show the artist's keen eye for details."—School Library Journal