Where the Light Enters: Building a Family, Discovering Myself (Hardcover)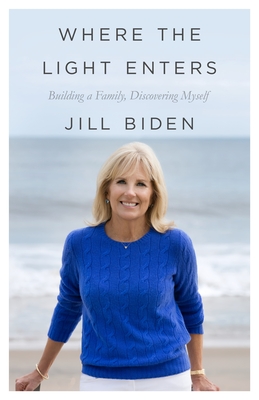 for information about purchasing this book, please contact orders@bookpassage.com
Description
---
An intimate look at the love that built the Biden family and the delicate balancing act of the woman at its center

"How did you get this number?" Those were the first words Jill Biden spoke to U.S. senator Joe Biden when he called her out of the blue to ask her on a date.

Growing up, Jill had wanted two things: a marriage like her parents'—strong, loving, and full of laughter—and a career. An early heartbreak had left her uncertain about love, until she met Joe. But as they grew closer, Jill faced difficult questions: How would politics shape her family and professional life? And was she ready to become a mother to Joe's two young sons?

She soon found herself falling in love with her three "boys," learning to balance life as a mother, wife, educator, and political spouse. Through the challenges of public scrutiny, complicated family dynamics, and personal losses, she grew alongside her family, and she extended the family circle at every turn: with her students, military families, friends and staff at the White House, and more.

This is the story of how Jill built a family—and a life—of her own. From the pranks she played to keep everyone laughing to the traditions she formed that would carry them through tragedy, hers is the spirited journey of a woman embracing many roles.

Where the Light Enters is a candid, heartwarming glimpse into the creation of a beloved American family, and the life of a woman at its center.
About the Author
---
Dr. Jill Biden is an American educator and the First Lady of the United States. From 2009 to 2017 she served as Second Lady of the United States, during which tenure she advocated for military families, community colleges, the fight against cancer, and the education of women and girls around the world. She has continued this work through the Biden Foundation, the Biden Cancer Initiative, and the Beau Biden Foundation for the Protection of Children. Dr. Biden is married to Vice President Joe Biden.
Praise For…
---
"In this charming memoir, Biden shares an intimate story of her life with former vice president Joe Biden...This generous and inspiring portrait of the Biden family is sure to be widely welcomed and enjoyed." - Publishers Weekly

"In this often poignant retelling, Biden shares some of the more meaningful moments of her life...Biden's tone is conversational and partially confessional, an endearing quality. Through this personal disclosure, readers gain insight into the fortitude and courage it takes to be a woman with a career and a close-knit family, with the obligations that come with a life as the second lady." - Kirkus Reviews