The One Man: The Riveting and Intense Bestselling WWII Thriller (Paperback)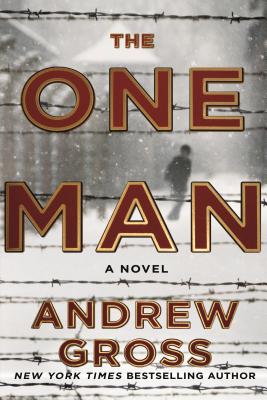 $19.00

Usually Ships in 1-5 Days
Description
---
"As moving as it is gripping. A winner on all fronts."—Booklist (starred review)
"Heart-pounding…This is Gross's best work yet, with his heart and soul imprinted on every page."—Kirkus Reviews (starred review)
Bursting with compelling characters and tense story lines, this historical thriller from New York Times bestseller Andrew Gross is a deeply affecting, unputdownable series of twists and turns through a landscape at times horrifyingly familiar but still completely new and compelling.
Poland. 1944. Alfred Mendl and his family are brought on a crowded train to a Nazi concentration camp after being caught trying to flee Paris with forged papers. His family is torn away from him on arrival, his life's work burned before his eyes. To the guards, he is just another prisoner, but in fact Mendl—a renowned physicist—holds knowledge that only two people in the world possess. And the other is already at work for the Nazi war machine.
Four thousand miles away, in Washington, DC, Intelligence lieutenant Nathan Blum routinely decodes messages from occupied Poland. Having escaped the Krakow ghetto as a teenager after the Nazis executed his family, Nathan longs to do more for his new country in the war. But never did he expect the proposal he receives from "Wild" Bill Donovan, head of the OSS: to sneak into the most guarded place on earth, a living hell, on a mission to find and escape with one man, the one man the Allies believe can ensure them victory in the war.
About the Author
---
ANDREW GROSS is the New York Times and internationally bestselling author of several novels, including No Way Back, Everything to Lose, and One Mile Under. He is also coauthor of five #1 New York Times bestsellers with James Patterson, including Judge & Jury and Lifeguard. His books have been translated into over 25 languages. He lives in Westchester County, New York, with his wife, Lynn. They have three children.
Praise For…
---
"Blum's deadly odyssey into and out of this 20th-century hell drives toward a compelling celebration of the human will to survive, remember, and overcome."—Publishers Weekly (starred review)

"A haunting and ultimately thrilling tale of World War II, one that invokes a masterful blend of family and duty laced with heroism. Each of the characters, intriguing and richly drawn, wrestle with the unforgiving triangle of evil, guilt, and the choices they must make, all steeped in the horror of war. I've been an Andrew Gross fan for years. This is his best book, bar none. You must read it!"—Steve Berry

"A high-stakes historical thriller that never relents. Suspenseful, taut, and terrific."—David Morrell

"The One Man is the book of Andrew Gross's career—unbearably suspenseful at times, heartbreaking and inspiring, surprising to the last page. It's magnificent."— Joseph Finder

"A truly amazing piece of work—powerful, emotional, gripping—all the things a great book should be and so much more."—Lorenzo Carcaterra

"As moving as it is gripping. A winner on all fronts."—Booklist (starred review)

"Heart-pounding…This is Gross's best work yet, with his heart and soul imprinted on every page."—Kirkus Reviews (starred review)