Three Tigers, One Mountain: A Journey Through the Bitter History and Current Conflicts of China, Korea, and Japan (Paperback)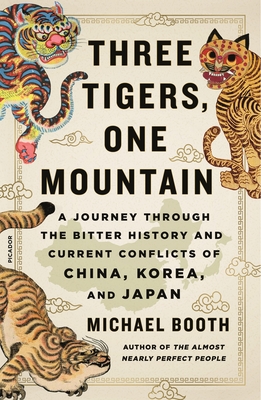 Description
---
From the author of The Almost Nearly Perfect People, a lively tour through Japan, Korea, and China, exploring the intertwined cultures and often fraught history of these neighboring countries.

There is an ancient Chinese proverb that states, "Two tigers cannot share the same mountain." However, in East Asia, there are three tigers on that mountain: China, Japan, and Korea, and they have a long history of turmoil and tension with each other. In his latest entertaining and thought provoking narrative travelogue, Michael Booth sets out to discover how deep, really, is the enmity between these three "tiger" nations, and what prevents them from making peace. Currently China's economic power continues to grow, Japan is becoming more militaristic, and Korea struggles to reconcile its westernized south with the dictatorial Communist north. Booth, long fascinated with the region, travels by car, ferry, train, and foot, experiencing the people and culture of these nations up close. No matter where he goes, the burden of history, and the memory of past atrocities, continues to overshadow present relationships. Ultimately, Booth seeks a way forward for these closely intertwined, neighboring nations.

An enlightening, entertaining and sometimes sobering journey through China, Japan, and Korea, Three Tigers, One Mountain is an intimate and in-depth look at some of the world's most powerful and important countries.
About the Author
---
Michael Booth is a journalist, broadcaster, and keynote speaker. He is the author of several works of non-fiction, including the award-winning, international best-seller, The Almost Nearly Perfect People and Super Sushi Ramen Express. He is a correspondent for Monocle magazine and Monocle M24 radio, as well as other international publications. His works have been adapted by BBC radio in the UK and NHK TV in Japan, and translated into over twenty languages.
Praise For…
---
"An evenhanded, accessible, and pertinent work of Asian history and current affairs."—Kirkus Review

"An enjoyable and information-packed travelogue ... Booth is a terrific observer of the region's educated youth, who make him an optimist....Booth's deft, accurate summaries of the contentious history in each place work well."—The Sunday Times (UK)