Love & Death in Burgundy: A French Village Mystery (The French Village Mysteries #1) (Hardcover)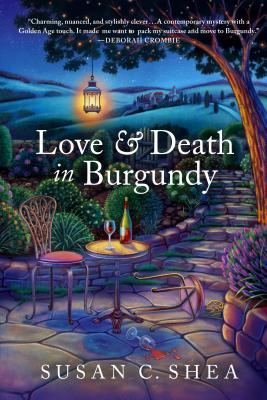 Description
---
"Shea launches a cozy series that richly details life in a small French village. The outlandish antics of the eccentric locals add to the humor. Suggest to fans of Rhys Bowen's early "Evan Evans" series for the humor, the characters, and the charming setting." -Library Journal

From critically acclaimed author, Susan C. Shea, comes Love & Death in Burgundy, an atmospheric mystery novel filled with good Chablis, french cheese, and, of course, murder.

After three years of living in the small town of Reigny-sur-Canne, all Katherine Goff really wants is to be accepted by her neighbors into their little community. But as an American expat living in the proud region of Burgundy, that's no easy task.

When the elderly Frenchman who lives in the village chateau is found dead at the bottom of a staircase, the town is turned into a hot bed of gossip and suspicion, and Katherine suddenly finds herself drawn deeper and deeper into the small town's secrets. A motherless teenager, a malicious French widow, a brash music producer, and a would-be Agatha Christie are among those caught up in a storm that threatens to turn Katherine's quiet life upside down. As more and more of the villagers' secrets are brought to light, Katherine must try to figure out who, if anyone, in the town she can trust, and which one of her neighbors just might be a killer.
About the Author
---
SUSAN C. SHEA spent more than two decades as a non-profit executive before beginning her career as a mystery author. Susan is past-president of the northern California chapter of Sisters in Crime and secretary of the national SinC board, a member of MWA, and blogs on CriminalMinds. She is the author of the French Village Mysteries, including Love & Death in Burgundy, and the Dani O'Rourke mystery series. Susan lives in Marin County, California and travels to France as often as she can.
Praise For…
---
"Susan C. Shea's novel set in the French countryside, offers a pleasant getaway." -Marilyn Stasio for The New York Times Book Review

"Shea launches a cozy series that richly details life in a small French village. The outlandish antics of the eccentric locals add to the humor. Suggest to fans of Rhys Bowen's early "Evan Evans" series for the humor, the characters, and the charming setting." -Library Journal

"Shea (The King's Jar, 2013, etc.) kicks off a new character-driven series with an amusing portrait of life in a tiny French town." -Kirkus Reviews

"This leisurely paced story channels a Miss Marple–like investigation and immerses the reader in the life of an American woman trying to fit into an insular French village." -Booklist

"Francophiles will welcome this cozy series launch from Shea." -Publishers Weekly

"A warm, welcoming visit in a charming village." -Buried Under Books

"Charming, nuanced, and stylishly clever, Love & Death in Burgundy is a contemporary mystery with a Golden Age touch. It made me want to pack my suitcase and move to Burgundy, and I can't wait to see Katherine and her village again." -Deborah Crombie, New York Times Bestselling author of The Sound of Broken Glass

"I adore village mysteries and this one has the added bonus of being set in France, which Susan obviously knows well. A delicious concoction for francophiles as well as cozy lovers." -Rhys Bowen, New York Times bestselling author of Queen of Hearts

"Premier Cru and French chateau visits out of your budget this summer? Take an armchair visit in Susan C.Shea's novel, Love & Death in Burgundy. Jaunt through flea markets, a murder, along with artistic expats in a lush country village and discover secrets." -Cara Black, New York Times bestselling author of the Aimee Leduc Mystery Thriller Series

"A brilliantly written mystery nestled in the French countryside. Old suspicions, swirling rumors, murder at a vintage chateau, and an American expat struggling to find her place make for adventure and intrigue that's not to be missed." -Duffy Brown, National Bestselling Author of the Consignment Shop Mysteries

"Love & Death in Burgundy will transport readers to the French countryside as the charmingly flawed artist heroine dabbles with a palette of murder, secrets and eccentric characters sure to delight. Shea's affection for her characters illuminates each passage and readers who spend an evening with them, perhaps with a glass of French wine, will be glad they did." -Lauren DiSilverio, author of The Readaholics and the Poirot Puzzle