Chasing the Devil: My Twenty-Year Quest to Capture the Green River Killer (Paperback)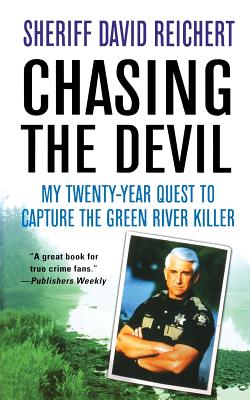 $22.99

Usually Ships in 1-5 Days
Description
---
It began with the discovery of three women's bodies found near suburban Seattle's Green River in August, 1982. Soon more corpses and human remains would be found, some as far as Oregon. They were teenage runaways or other women whose anonymous lifestyles had made them easy, vulnerable targets-and they were all the victims of a faceless murderer whose rampage would span two decades and take as many as forty-nine lives. No other serial killer in the nation's history had killed so many people.

For twenty long years, Sheriff David Reichert played a cat and mouse game with the Green River killer who managed to stay one step ahead of Reichert, the local authorities, and even the FBI. But Reichert had no doubt in his mind that he was going to find the Green River killer- no matter how long it took...
That day came in 2001 when DNA evidence linked fifty-two-year-old truck painter Gary Ridgway to three of the murder victims. The long nightmare was finally over for Reichert and the families of the murder victims. With startling insider disclosures and the fascinating forensic details of the relentless manhunt itself-Chasing the Devil exposes the heart of true evil and reveals the dauntless efforts behind one man's quest to chase it...
About the Author
---
David Reichert first encountered the Green River Killer's grisly work in 1982, when he was a young detective. For two decades he pursued this madman--who preyed on society's weakest members--with unrelenting determination. He left no stone unturned. Practically every waking hour of his professional life, Reichert was somehow involved in the case: either searching parks or going over seemingly stale evidence. Finally, in 2002, he found his man: a vicious misogynist by the name of Gary Ridgeway, who quickly confessed to 48 brutal killings.