The Weight of Him: A Novel (Hardcover)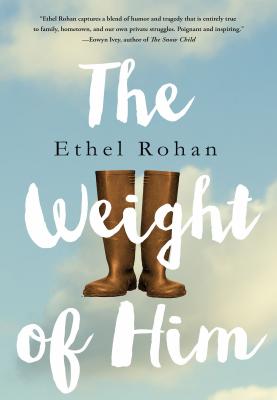 $34.99

Usually Ships in 1-5 Days
Description
---
"Deeply moving and memorable." —Roxane Gay, author of Bad Feminist and Hunger

"First-time novelist Rohan shows impressive acuity in portraying the many facets of Billy's and his family's grief." --Booklist

At four hundred pounds, Billy Brennan can always count on food. From his earliest memories, he has loved food's colors, textures and tastes. The way flavors go off in his mouth. How food keeps his mind still and his bad feelings quiet. Food has always made everything better, until the day Billy's beloved son Michael takes his own life.

Billy determines to make a difference in Michael's memory and undertakes a public weight-loss campaign, to raise money for suicide prevention—his first step in an ambitious plan to save himself, and to save others. However, Billy's dramatic crusade appalls his family, who want to simply try to go on.

Despite his crushing detractors, Billy gains welcome allies: his community-at-large; a co-worker who lost his father to suicide; a filmmaker with his own dubious agenda; and a secret, miniature kingdom that Billy populates with the sub-quality dolls and soldiers he rescues from disposal at the local toy factory where he works. But it is only if Billy can confront the truth of his pain, suffering, and the brokenness around him, that he and others will be able to realize the full rescue and change they need.

Set in rural, contemporary Ireland, Ethel Rohan's The Weight of Him is an unforgettable, big-hearted novel about loss and reliance that moves from tragedy to recrimination to what can be achieved when we take the stand of our lives.
About the Author
---
Ethel Rohan is the author of the story collections, Goodnight Nobody and Cut Through the Bone, the former longlisted for The Edge Hill Prize and the latter longlisted for The Story Prize. Her work has appeared in The New York Times, World Literature Today, GUERNICA Magazine, Tin House Online,The Rumpus, and many more. Born and raised in Ireland, she lives in San Francisco.
Praise For…
---
"Deeply moving and memorable." —Roxane Gay, author of Bad Feminist and Hunger

"Ethel Rohan shows herself to be one of those rare, courageous writers who dares to take on the 'ordinary' and show just how extraordinary it really is. The Weight of Him is a brave and moving book." —John Banville, author of The Sea

"Poignant and inspiring. The Weight of Him conjures all the grief and regret of a family who has suffered an insurmountable loss, but out of this burning sorrow rises Big Billy Brennan. With courage and love, he attempts the seemingly impossible – to change the world. Ethel Rohan captures a blend of comedy and tragedy that is entirely true to family, hometown, and our own private struggles. And when you're finished, you'll want to go for a long, grateful walk." —Eowyn Ivey, author of The Snow Child

"Extraordinary." —Caroline Leavitt, New York Times bestselling author

"Ethel Rohan is a writer of great courage and emotional intelligence. She can also tell a damn good story. The Weight of Him is about loss and about life. It is involving, terrifying and ultimately quite beautiful." —Tom Barbash, author of Stay Up With Me

"I read Ethel Rohan's marvelous The Weight of Him in a single sitting, enthralled by the beautifully captured protagonist, Billy Brennan, who tries to make sense of his son's death by losing half of his body weight. It's a story of grief, to be sure, and overwhelming appetites, but it's also a lovely meditation on fatherhood, and hope." —Haven Kimmel, author of A Girl Named Zippy

"How can a story abut death be so life affirming? Ethel Rohan's compassionate debut novel is sad, heartbreaking even, but also uplifting, a celebration of the determination to keep on trying." —Bonnie Jo Campbell, author of Once Upon a River

"Ethel Rohan is that rarest of writers, blessed with the x-ray vision to see not only past the skin, but past even the bone and into the marrow. In the strands of her debut novel's DNA, lab analysis might turn up traces of Alice McDermott, Alice Munro, Tom Perrotta, and Colum McCann. But the genome of The Weight of Him is entirely, thrillingly Rohan's own. Read this book!" —Daniel Torday, author of The Last Flight of Poxl West

"The Weight of Him is an achingly sad, achingly lovely novel that speaks to the essential core of our shared human experience. I will not soon forget it. Ethel Rohan, a prodigiously skilled short story writer, has proved herself, in this debut novel, to be a master of the long form as well." —Robert Olen Butler, author of Perfume River

"Ethel Rohan's tender, generous and inspiring debut novel, The Weight of Him, deserves our full appreciation and absorption." —San Francisco Chronicle