Every Living Thing: The Warm and Joyful Memoirs of the World's Most Beloved Animal Doctor (All Creatures Great and Small) (Paperback)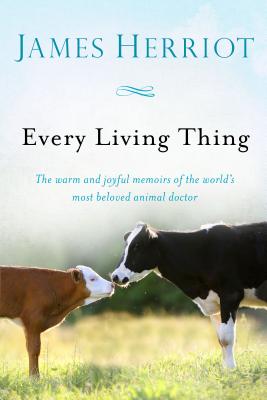 Description
---
A perfect gift for anyone who loves animals, this fifth and final installment in James Herriot's heartwarming collection, the basis for the All Creatures Great and Small television series.

Every Living Thing: The Warm and Joyful Memoirs of the World's Most Beloved Animal Doctor brings back familiar friends (including old favorites such as Tricki Woo) and introduces new ones, including Herriot's children Rosie and Jimmy and the marvelously eccentric vet Calum Buchanan.

This book marks a perfect opportunity for existing fans of Herriot's work to reacquaint themselves with his writing, and for those who've never read him to see what generations of animal lovers have already discovered: James Herriot is that rarest of creatures, a genuine master storyteller.
About the Author
---
James Herriot (1916-1995) was the bestselling author of memoirs including All Creatures Great and Small, All Things Bright and Beautiful, All Things Wise and Wonderful, The Lord God Made Them All, and Every Living Thing. At age 23, Herriot qualified for veterinary practice with the Glasgow Veterinary College, and moved to the town of Thirsk in Yorkshire to work in a rural practice. He would live in, work in, and write about the region for the rest of his life. Though he dreamed for years of writing a book, his veterinary work and his family kept him busy, and he did not start writing until the age of 50. In 1979, he was awarded the title Order of the British Empire (OBE). His veterinary practice in Yorkshire, England, is now tended by his son, Jim Wight.