Undeniable: Evolution and the Science of Creation (Paperback)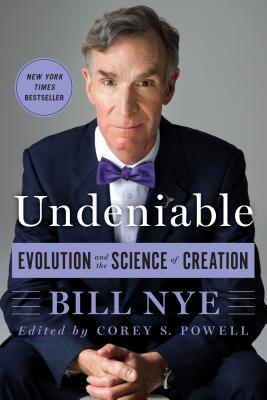 $16.99

Usually Ships in 1-5 Days
Description
---
The New York Times best seller by the host of Bill Nye the Science Guy, with a brand new chapter for the paperback edition!

"Evolution is one of the most powerful and important ideas ever developed in the history of science. Every question it raises leads to new answers, new discoveries, and new smarter questions. The science of evolution is as expansive as nature itself. It is also the most meaningful creation story that humans have ever found."-Bill Nye

Sparked by a controversial debate in February 2014, Bill Nye has set off on an energetic campaign to spread awareness of evolution and the powerful way it shapes our lives. In Undeniable: Evolution and the Science of Creation, he explains why race does not really exist; evaluates the true promise and peril of genetically modified food; reveals how new species are born, in a dog kennel and in a London subway; takes a stroll through 4.5 billion years of time; and explores the new search for alien life, including aliens right here on Earth.
With infectious enthusiasm, Bill Nye shows that evolution is much more than a rebuttal to creationism; it is an essential way to understand how nature works-and to change the world. It might also help you get a date on a Saturday night.
About the Author
---
Bill Nye is a scientist, engineer, comedian, and inventor. He has a BS in Mechanical Engineering from Cornell University where he studied under Carl Sagan, and worked on the 747 as an engineer at Boeing before creating and hosting his much-loved Emmy award-winning PBS/Discovery Channel show Bill Nye the Science Guy. He holds six Honorary Doctorate degrees from Lehigh University, Willamette University, Quinnipiac University, Rensselaer Polytechnic Institute, Goucher College, and Johns Hopkins, and teaches at Cornell regularly as a visiting professor.

Corey S. Powell is the former editor in chief of American Scientist and Discover, where he is currently editor at large and continues to write the "Out There" column and blog. He is also a visiting scholar at NYU's SHERP science journalism program, as well as a freelance writer for Popular Science, Smithsonian, Nautilus, and Aeon; his article "The Madness of the Planets" appears in The Best American Science and Nature Writing 2014. He lives in Brooklyn with his wife, two daughters, and a small collection of Permian-era fossils. He has collaborated with Bill Nye on Undeniable and Unstoppable.
Praise For…
---
"With his charming, breezy, narrative style, Bill empowers the reader to see the natural world as it is, not as some would wish it to be. He does it right. And, as I expected, he does it best." —Neil deGrasse Tyson, Ph.D, host of COSMOS
"This gracefully written book provides a tour through not just the big ideas of evolution, but why evolution is such a captivating idea scientifically, philosophically, and emotionally. Written from the heart--but science always comes from the heart with Bill Nye." —Eugenie C. Scott, Ph.D., author of Evolution vs. Creationism: An Introduction
"Bill Nye has written a wonderfully clear, readable, and enjoyable explanation of what evolution is and is not. In his casual, humorous style, he...describes the gigantic mountain of evidence that demonstrates that evolution not only happened in the past, but is happening in real time." —Donald Prothero, Ph.D., author of Evolution: What the Fossils Say and Why It Matters
"Following right in his mentor Carl Sagan's footsteps, this call to action and awareness of the lingering 'debate' over the reality of Evolution will further cement Bill Nye's place as our time's premier spokesman for science and reason." —Dr. Jim Bell, president of The Planetary Society and author of The Interstellar Age
"Bill Nye has penned one of the clearest and most moving explanations of that process since Darwin's On the Origin of Species. With clarity and passion, Nye brings evolutionary theory to life." —Michael Shermer, Ph.D., author of Why Darwin Matters and The Moral Arc