Have a Nice Guilt Trip (The Amazing Adventures of an Ordinary Woman #5) (Paperback)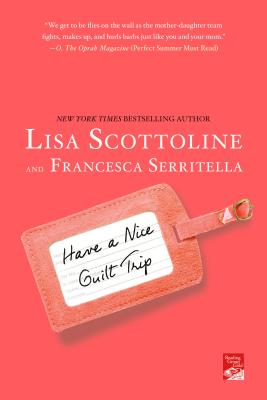 $14.99

Usually Ships in 1-5 Days
Other Books in Series
This is book number 5 in the The Amazing Adventures of an Ordinary Woman series.
Description
---
Everyone's favorite mother-daughter writing duo is back with a new collection of warm and witty stories, Lisa Scottoline and Francesca Serritella's Have a Nice Guilt Trip!

With twenty-something Francesca navigating New York City, Lisa holding down the fort in the suburbs, and Mother Mary making frequent and always entertaining appearances, there are plenty of opportunities for family-induced guilt, fighting, laughter, and love. As Lisa says, "Bottom line, if you're a mom, you'll feel guilty all the time, and this is true because you're a daughter as well, and God only knows how many times you failed your poor mother." So come along for the ride as Lisa Scottoline and Francesca Serritella continue on the road of life acquiring men and puppies…Ok, to be honest, Lisa is acquiring the puppies, while Francesca is lucky enough to have dates with actual men. They'll leave it to readers to decide which is more desirable and/or or easier to train.
About the Author
---
Lisa Scottoline is the New York Times bestselling author of over thirty novels including Look Again, Lady Killer, Think Twice, Save Me and Everywhere That Mary Went. She also writes a weekly column, "Chick Wit," with her daughter Francesca Serritella, for The Philadelphia Inquirer. The columns have been collected in seven volumes, including Why My Third Husband Will Be a Dog and My Nest Isn't Empty, It Just Has More Closet Space. Scottoline has won an Edgar® Award and Cosmopolitan magazine's "Fun Fearless Fiction" Award, and she served as the president of Mystery Writers of America. She teaches a course on justice and fiction at the University of Pennsylvania Law School, her alma mater. She lives in the Philadelphia area.

FRANCESCA SERRITELLA graduated cum laude from Harvard University, where she won the Thomas Temple Hoopes Prize, the Le Baron Russell Briggs Fiction Prize, and the Charles Edmund Horman Prize for her creative writing. She is working on a novel, and she lives in New York with only one dog, so far. Francesca is the coauthor of I Need a Lifeguard Everywhere But the Pool, Does This Beach Make Me Look Fat? and many others.
Praise For…
---
"Lisa and Francesca, mother and daughter, bring you the laughter of their lives once again and better than ever. You will identify with these tales of guilt and fall in love with them and fierce (grand)Mother Mary." —Delia Ephron, bestselling author of Sister Mother Husband Dog

"Whether Lisa and Francesca are contemplating mommy guilt, puppy love, or baby fever, this fabulous book is that rare mix of LOL wit and exquisite real-world wisdom. Perfect for a day at the beach, a night in the bathtub, or anytime life makes you say (in Lisa's words) ouchie!" —Kate White, former editor-in-chief of Cosmopolitan and author of Eyes on You

"Have a Nice Guilt Trip is a hilarious look into the modern woman's mind. This duo's ponderings on contemporary life and sometimes stormy family ties are always entertaining. Fasten your seatbelts for the good times ahead." —Mary Kay Andrews, bestselling author of Ladies' Night

"Lisa and Francesca's writing is so fun, funny, warm, sharp, and emotional that I wish I could both adopt and be adopted by them. Is that legally possible? Good thing Lisa's a lawyer. She'll know." —Megan Amram, author of Science…For Her!

"Readers can count on an ab-toning laugh session, a silly giggle, a sympathetic sigh, and a lump in the throat as life's moments are rehashed through the keen eyes and wits of this lovable mother-daughter duo." —Booklist on Meet Me at Emotional Baggage Claim

"[A] witty and sweet return to the ins and outs of life in the sometimes kooky, always smart and funny, family." —Publishers Weekly on Best Friends, Occasional Enemies

"The perfect present for moms, grandmas, and aunts." —Cosmopolitan on Why My Third Husband Will Be a Dog

"Scottoline savors every last bit of her life, and so will you." —People on Why My Third Husband Will Be a Dog

"Essays that are fun to read, share, and ponder." —Publishers Weekly on Meet Me at Emotional Baggage Claim

"Feels like one big gabfest with your best girlfriends, whatever their age." —Booklist on Best Friends, Occasional Enemies

"A clever compilation from two generations of women reflecting on family, love, dessert, and everything in between." —Booklist on My Nest Isn't Empty, It Just Has More Closet Space

"Rueful, uplifting, sweet, kooky--and always amusing." —Publishers Weekly on My Nest Isn't Empty, It Just Has More Closet Space