55 Successful Harvard Law School Application Essays, 2nd Edition: With Analysis by the Staff of The Harvard Crimson (Paperback)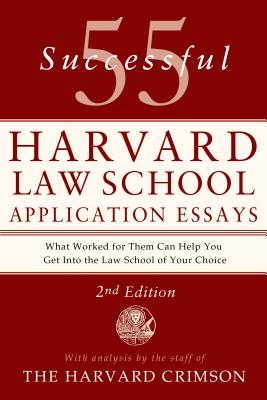 $19.00

Usually Ships in 1-5 Days
Description
---
Harvard Law School is one of the premier law schools in the world. It as well as other top schools draws thousands of applicants from the best colleges and companies. With only a limited number of slots for so many talented applicants, the admissions officers have become more and more selective every year, the competition has become fierce, and even the best and brightest could use an edge.

This completely new edition of 55 Successful Harvard Law School Application Essays is the best resource for anyone looking for that edge. Through the most up-to-date sample essays from the Harvard Law School students who made the cut and insightful analysis from the staff at The Harvard Crimson, it shows you how best to:

* Argue your case effectively
* Arrange your accomplishments for maximum impact
* Avoid common pitfalls

55 Successful Harvard Law School Application Essays guides you toward writing essays that do more than simply list your background and accomplishments. These are essays that reveal your passion for the law as well as the discipline you bring to this demanding profession and will help you impress any admissions department. The all-new essays and straightforward and time-saving advice will give you all the insider tips you'll need to write the essays that will get you into the best law schools in the world.
About the Author
---
The Harvard Crimson is the daily newspaper of Harvard University in Cambridge, Massachusetts. Its staff consists of three hundred students, and it is the nation's oldest continually operating daily newspaper.