Meet Me at Emotional Baggage Claim (The Amazing Adventures of an Ordinary Woman #4) (Paperback)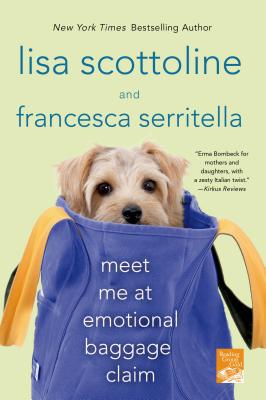 for information about purchasing this book, please contact orders@bookpassage.com
Other Books in Series
This is book number 4 in the The Amazing Adventures of an Ordinary Woman series.
Description
---
"A warm, lively collection of narrative vignettes chronicling the day-to-day relationship of two women who also happen to be part of a successful mother-daughter writing team." —Kirkus Reviews

Love and guilt are thick in the Scottoline/Serritella household, and Lisa and Francesca's mother-daughter-turned-best-friends bond will strike a familiar note to many. But now that Lisa is a suburban empty-nester and Francesca is an independent twenty-something in the big city, they have to learn how to stay close while living apart. How does a mother's love translate across state lines and over any semblance of personal boundaries? You'll laugh out loud as they face-off over the proper technique for packing dishes, the importance of bringing a coat in the summertime, and the dos and don'ts of dating at any age. Add feisty octogenarian Mother Mary to the mix, and you have a Molotov cocktail of estrogen, opinions, and fun.

The stories in Meet Me at Emotional Baggage Claim will make you laugh, cry, and call your mother, daughter, and all your girlfriends.
About the Author
---
Lisa Scottoline is the New York Times bestselling author of over thirty novels including Look Again, Lady Killer, Think Twice, Save Me and Everywhere That Mary Went. She also writes a weekly column, "Chick Wit," with her daughter Francesca Serritella, for The Philadelphia Inquirer. The columns have been collected in seven volumes, including Why My Third Husband Will Be a Dog and My Nest Isn't Empty, It Just Has More Closet Space. Scottoline has won an Edgar® Award and Cosmopolitan magazine's "Fun Fearless Fiction" Award, and she served as the president of Mystery Writers of America. She teaches a course on justice and fiction at the University of Pennsylvania Law School, her alma mater. She lives in the Philadelphia area.

FRANCESCA SERRITELLA graduated cum laude from Harvard University, where she won the Thomas Temple Hoopes Prize, the Le Baron Russell Briggs Fiction Prize, and the Charles Edmund Horman Prize for her creative writing. She is working on a novel, and she lives in New York with only one dog, so far. Francesca is the coauthor of I Need a Lifeguard Everywhere But the Pool, Does This Beach Make Me Look Fat? and many others.
Praise For…
---
"Readers can count on an ab-toning laugh session, a silly giggle, a sympathetic sigh, and a lump in the throat as life's moments are rehashed through the keen eyes and wits of this lovable mother-daughter duo." —Booklist on Meet Me at Emotional Baggage Claim

"Essays that are fun to read, share, and ponder." —Publishers Weekly on Meet Me at Emotional Baggage Claim

"Despite all the "emotional baggage" they carry (and fearlessly claim), however, their faith in and commitment to each other remains unshaken because, writes Scottoline, "that's love"...Erma Bombeck for mothers and daughters, with a zesty Italian twist." —Kirkus Reviews on Meet Me at Emotional Baggage Claim

"Feels like one big gabfest with your best girlfriends, whatever their age." —Booklist on Best Friends, Occasional Enemies

"[A] witty and sweet return to the ins and outs of life in the sometimes kooky, always smart and funny, family." —Publishers Weekly on Best Friends, Occasional Enemies

"A clever compilation from two generations of women reflecting on family, love, dessert, and everything in between." —Booklist on My Nest Isn't Empty, It Just Has More Closet Space

"Rueful, uplifting, sweet, kooky--and always amusing." —Publishers Weekly on My Nest Isn't Empty, It Just Has More Closet Space

"Delightfully witty." —AudioFile on My Nest Isn't Empty, It Just Has More Closet Space

"One of the best double acts in the business." —Connecticut Post on My Nest Isn't Empty, It Just Has More Closet Space

"Shrewd, tart, sensitive and hard to resist." —Kirkus Reviews on Why My Third Husband Will Be a Dog

"The perfect present for moms, grandmas, and aunts." —Cosmopolitan on Why My Third Husband Will Be a Dog

"Scottoline savors every last bit of her life, and so will you." —People on Why My Third Husband Will Be a Dog