City of Ghosts: A Miranda Corbie Mystery (Hardcover)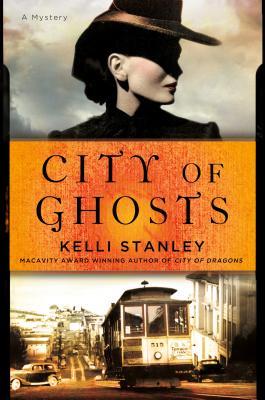 Other Books in Series
This is book number 3 in the A Miranda Corbie Mystery series.
Description
---
June, 1940.
For the United States, war is on the horizon.
For Miranda Corbie, private investigator and erstwhile escort, there are debts to be paid and memories—long-suppressed and willfully forgotten—to be resurrected. Enter the U.S. State Department and the man who helped Miranda get her PI license. A man she owes. A man who asks her to track a chemistry professor here in San Francisco whom he suspects is a spy for the Nazis. Playing along may get Miranda a ticket to Blitz-bombed England and answers about her past…if she survives.
Through sordid back alleys and art gallery halls, from drag dress nightclubs to a Nazi costume ball, Miranda's journey into fear takes her on the famed City of San Francisco streamliner and to Reno, Nevada, the Biggest Little City in the World…where she finds herself framed for a murder she never anticipated. Forced to go underground, Miranda soldiers on alone, determined to find the truth about a murder, a Nazi spy, and her own troubling past.
But Miranda will have to learn the difference between reality and illusion, from despair to deceit and factual to fake, as she tries to get her life back…and navigates a City of Ghosts.
Miranda Corbie's back. Noir will never be the same.
And Kelli Stanley will once again mesmerize readers with the most thrilling novel yet in her award-winning series.
About the Author
---
Kelli Stanley is an award-winning author of crime fiction (novels and short stories). She makes her home in Dashiell Hammett's San Francisco, a city she loves to write about. She is the author of two crime fiction series, including the Miranda Corbie Mysteries (City of Ghosts, City of Secrets).
Kelli earned a Master's Degree in Classics, loves jazz, old movies, battered fedoras, Art Deco and speakeasies. She is walked daily by a Springer Spaniel named Bertie.
She credits Raymond Chandler, Ernest Hemingway, Cornell Woolrich, Dashiell Hammett and Thomas Hardy as some of her major influences.
Praise For…
---
"Full of evocative detail (the scent of Hills Brothers Coffee, the sound of Artie Shaw's "Frenesi"), City of Ghosts has the vigor and pace of a terrific Warner Bros. film noir…Ms. Stanley brings 1940 San Francisco to life in flamboyant language, reminiscent at times of such period prose-poets as radio's Norman Corwin and Bay Area newspaperman Herb Caen." —The Wall Street Journal
"A love of San Francisco--its flaws, strengths and eccentricities--permeates Kelli Stanley's intriguing novels about private detective Miranda Corbie.…The author's clear-eyed view of San Francisco and of Miranda's character adds to the strength of the novel's engrossing historical fiction." —Associated Press
"[Stanley] once again showcases her ability to transport the reader back in time. The atmosphere, character, dialogue and setting all feel authentic to the point that one wonders if Stanley has a device to go back in time, record events and come back to transcribe them. Fans and newcomers alike will be eager to see what happens to Miranda next." —RT Book Reviews (4 stars)
"Stanley's protagonist looks like Rita Hayworth and talks like Sam Spade in pumps, but Miranda is nobody's fool, as she proves time and again." —Kirkus
"Stanley's tenacious research into time and place is evident in every sentence on every page, with the result being that anyone reading the book, as well as its two predecessors, surrenders the reality of the present for Stanley's presentation of the past. And what a past it is." —Bookreporter