Below Stairs: The Classic Kitchen Maid's Memoir That Inspired "Upstairs, Downstairs" and "Downton Abbey" (Hardcover)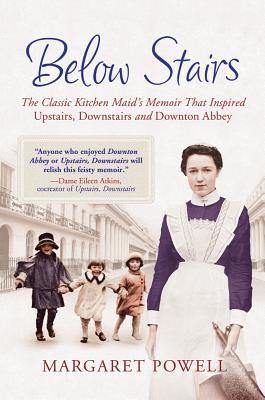 $22.99
Email or call for price
Other Books in Series
This is book number 1 in the Below Stairs series.
Description
---
Brilliantly evoking the long-vanished world of masters and servants portrayed in "Downton Abbey" and "Upstairs, Downstairs," Margaret Powell's classic memoir of her time in service, "Below Stairs, " is the remarkable true story of an indomitable woman who, though she served in the great houses of England, never stopped aiming high. Powell first arrived at the servants' entrance of one of those great houses in the 1920s. As a kitchen maid the lowest of the low she entered an entirely new world; one of stoves to be blacked, vegetables to be scrubbed, mistresses to be appeased, and bootlaces to be ironed. Work started at 5.30am and went on until after dark. It was a far cry from her childhood on the beaches of Hove, where money and food were scarce, but warmth and laughter never were. Yet from the gentleman with a penchant for stroking the housemaids' curlers, to raucous tea-dances with errand boys, to the heartbreaking story of Agnes the pregnant under-parlormaid, fired for being seduced by her mistress's nephew, Margaret's tales of her time in service are told with wit, warmth, and a sharp eye for the prejudices of her situation. Margaret Powell's true story of a life spent in service is a fascinating "downstairs" portrait of the glittering, long-gone worlds behind the closed doors of Downton Abbey and 165 Eaton Place.
About the Author
---
MARGARET POWELL was born in 1907 in Hove, and left school at the age of 13 to start working. At 14, she got a job in a hotel laundry room, and a year later went into service as a kitchen maid, eventually progressing to the position of cook, before marrying a milkman called Albert. In 1968 the first volume of her memoirs, "Below Stairs," was published to instant success and turned her into a celebrity. She died in 1984.
Praise For…
---
"Margaret Powell's sharply observed memoir... stands out in the tradition of literature about servants for being a true account of a life spent in domestic service, although the incidents it relates are as vividly entertaining and disturbing as anything found in fiction."--Wall Street Journal
"What makes Powell such a credible narrator is the fact that she's never reflexively bitter or nasty. When she worked for a family that treated her with kindness and without condescension, she was deeply grateful and desperate to please... All these years later, "Below Stairs" retains its peculiar fascination."--The New York Times
"An irresistible inside account of life "in service" and a fascinating document of a vanished--if fetishistically longed-for--time and place."--Kirkus Reviews
Anyone who enjoyed Downton Abbey or Upstairs Downstairs will relish this feisty memoir."--Dame Eileen Atkins, co-creator of Upstairs, Downstairs
"Margaret Powell was the first person outside my family to introduce me to that world, so near and yet seemingly so far away, where servants and their employers would live their vividly different lives under one roof.  Her memories, funny and poignant, angry and charming, haunted me until, many years later, I made my own attempts to capture those people for the camera.  I certainly owe her a great debt."--Julian Fellowes, creator of Downton Abbey