The Druggist of Auschwitz: A Documentary Novel (Paperback)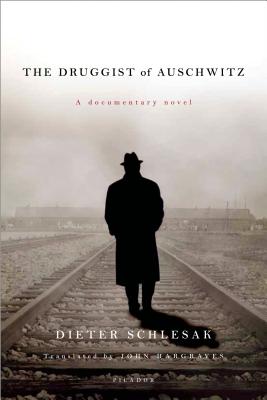 $23.00

Usually Ships in 1-5 Days
Description
---
The Druggist of Auschwitz is a frighteningly vivid portrayal of the Holocaust as seen through the eyes of criminal and victim alike. Adam, "the last Jew of Schäßburg," recounts with disturbing clarity his imprisonment at the infamous Auschwitz concentration camp. Through his fictional narrative and excerpts of actual testimony at the Frankfurt Auschwitz Trial of 1963--1965, we come to learn the true-life story of Dr. Victor Capesius, who, despite strong friendships with Jews, was quick to profit from their tragedy once the Nazis came to power. Interspersed with historical research and interviews with actual survivors, The Druggist of Auschwitz is a vital and unique addition to our understanding of the Holocaust.
About the Author
---
Dieter Schlesak is a German-Romanian poet, novelist, and essayist. He is a member of the German PEN Center and the PEN Centre of German-Speaking Writers Abroad, and has received scholarships and awards from numerous organizations, including the Schiller Foundation and the University of Bucharest. Schlesak was born in Transylvania in 1934 and has lived in Italy and Germany since 1973. He is the author of The Druggist of Auschwitz.

John Hargraves has taught German literature at Yale University and Connecticut College. He is the author of Music in the Works of Broch, Mann, and Kafka and has translated works by Hermann Broch and Elias Canetti, among others. His translation of Michael Krüger's novel The Executor was awarded the Helen and Kurt Wolff Translator's Prize. Hargraves lives in Manhattan and Connecticut.
Praise For…
---
"Like the novels of W.G. Sebald . . . [The Druggist of Auschwitz] will fill you with despair and rage and terrible shame at the infinite ingenuity of human cruelty. By steeling himself not to flinch before the hideous reality of the Holocaust, Schlesak has created a beautiful book." —David Laskin, The Seattle Times

"That Dieter Schlesak could write this novel in what Adam calls the executioner's language serves as some small triumph. That he could look at all of this with a clear eye and help the reader to do the same is a major triumph." —Alan Cheuse, NPR

"A great book that hits you like a fist . . . An unforgettable tapestry of evil . . . [The Druggist of Auschwitz] shows that, as Melville said, the truth is more unthinkable than fiction." —Claudio Magris, Corriere della Sera (Italy)

"Written in a fluid style with little intervening commentary…The Druggist of Auschwitz is nothing less than a minimally guided tour of hell on earth." —Booklist

"Retracing the story of Dr. Capesius, in which appear other infamous figures--such as Josef Mengele, the 'Angel of Death'; Fritz Klein, the 'Assassin for Good'; and the camp commandant, Rudolf Höß--Schlesak reconstructs the terrifying history of Auschwitz: the trauma of arrival, the torture of the prisoners, the horror of the gassings and cremations. Schlesak writes with a dry style, almost with the distance of a reporter, giving us a powerful testimony on the banality of evil. The Druggist of Auschwitz is a book which confirms that sometimes the truth is more unimaginable than the most horrible fantasy." —Gaetano Vallini, L'Osservatore Romano (Vatican City)

"Dieter Schlesak not only has created a shattering work of great literary power and authenticity . . . but also sheds light on the relationship between perpetrators and their victims." —Claus Stephani, David: Jüdische Kulturzeitschrift (Austria)