J.K. Lasser's Small Business Taxes 2023: Your Complete Guide to a Better Bottom Line (Paperback)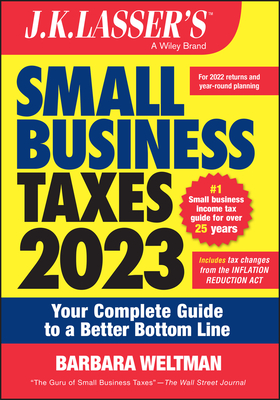 $25.00

Usually Ships in 1-5 Days
Description
---
Comprehensive guide to small business tax write-offs and strategies from a leading name in tax
Small business owners in the US face enough challenges without overpaying tax. Despite this, millions of small businesses miss out on crucial deductions, tax credits, and tax-saving moves every year, resulting in higher-than-necessary tax bills. In J.K. Lasser's Small Business Taxes 2023: Your Complete Guide to a Better Bottom Line, renowned attorney and small business advocate Barbara Weltman offers a thorough and exhaustively researched roadmap to legally minimizing your tax liability and maximizing your deductions and credits.
In the book, you'll find tax facts and planning strategies that help you make business decisions in the most tax-efficient way possible. You'll also discover:
A complete list of the business expense deductions and tax credits available to you and what you need to do to qualify for them
Up-to-date info on current tax law and procedure, including information on the latest relevant legislation
Guidance on avoiding tax penalties and minimizing audit risk
A heads-up on coming changes to help you plan for next year's taxes
Sample forms and checklists to help you get organized and help you stay tax compliant
A free e-supplement that includes the latest developments from the IRS and Congress
A concise and plain-English guide for every small business owner in America, Small Business Taxes 2023 is the detailed and accessible tax overview you've been waiting for.
About the Author
---
BARBARA WELTMAN is an attorney and a nationally recognized expert in taxation for small businesses, as well as the author of many top-selling books on taxes and finance, including J.K. Lasser's 1001 Deductions & Tax Breaks. She is also the publisher of Idea of the Day(R) and Big Ideas for Small Business(R), a contributor to SBA.gov, and quoted regularly in major publications (including the New York Times, the Wall Street Journal, and Consumer Reports). Visit her at www.BigIdeasForSmallBusiness.com.