J.K. Lasser's 1001 Deductions and Tax Breaks 2023: Your Complete Guide to Everything Deductible (Paperback)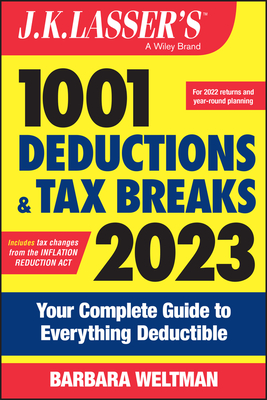 $25.00

Usually Ships in 1-5 Days
Description
---
The comprehensive handbook for American taxpayers looking for every legal tax deduction and credit
No one likes to pay taxes. And everyone hates paying more taxes than they need to. Yet, each year, Americans make billions of dollars in tax overpayments. In J.K. Lasser's 1001 Deductions and Tax Breaks 2023: Your Complete Guide to Everything Deductible, expert attorney and small business advocate Barbara Weltman delivers a thorough and carefully researched explanation of the constantly changing tax laws as they apply to ordinary, taxpaying Americans.
The latest edition of this book has been completely updated to reflect recent legislation, the latest tax court rulings, and IRS guidance, allowing readers to easily refer to relevant deductions and credits in the easy-to-follow guide. You'll find:
Answers to the most frequently asked tax questions about deductions and credits as well as what income is tax free
Comprehensive info on every deductible expense, including current dollar limits and record-keeping requirements
A free e-supplement that includes the latest developments from the IRS and Congress
Perfect for taxpayers and tax preparing professionals, 1001 Deductions and Tax Breaks 2023 continues to be America's favorite go-to roadmap to claiming what is rightfully yours and keeping more of your hard-earned income.
About the Author
---
BARBARA WELTMAN is an attorney and a nationally recognized expert in taxation for small businesses, as well as the author of many top-selling books on taxes and finance, including J.K. Lasser's Small Business Taxes. She is also the publisher of Idea of the Day(R), is quoted regularly in major publications (including the New York Times, the Wall Street Journal, and Consumer Reports), and is an award-winning blogger. Visit her at www.BigIdeasForSmallBusiness.com.