Candlestick Charting for Dummies (Paperback)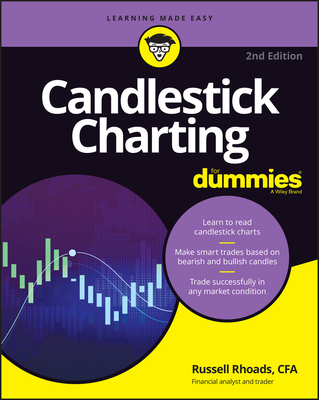 Description
---
Demystify stock charts so you can up your investing game
Candlestick Charting For Dummies is here to show you that candlestick charts are not just for Wall Street traders. Everyday investors like you can make sense of all those little lines and boxes, with just a little friendly Dummies training. We'll show you where to find these charts (online or in your favorite investing app), what they mean, and how to dig out valuable information. Then, you'll be ready to buy and sell with newfound stock market savvy.
Candlestick Charting For Dummies helps you build a foundation of investing knowledge and lingo (bullish? bearish? What is a candlestick, anyway?), then shows you the chart-reading ropes with relevant and easy-to-understand examples. It covers the latest investing technology, cryptocurrency, and today's somewhat-less-predictable market environment.
Get a refresher on stock market terminology and investing basics
Discover how easy it is to understand price history and movement with candlestick charts
Identify the best times to buy and sell securities, including stocks and crypto
Learn from real life examples so you can invest with greater confidence and success
This is the Dummies guide for beginner and intermediate investors who want to make smarter decisions with a better understanding of how to read candlestick charts.
About the Author
---
Russell Rhoads, PhD, is head of research at EQDerivatives and an Associate Clinical Professor at the Kelley School of Business at Indiana University. He has over three decades of experience focusing on trading and the financial markets. Rhoads is the author of the previous edition of Candlestick Charting For Dummies.