J.K. Lasser's Your Income Tax 2022: For Preparing Your 2021 Tax Return (Paperback)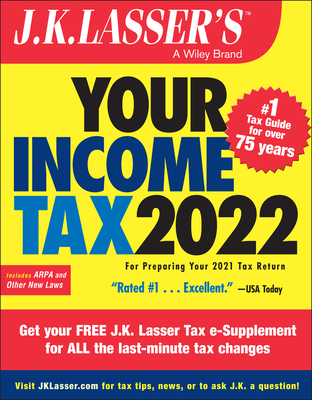 Description
---
The latest entry in America's #1 all-time, best-selling tax guide
J.K. Lasser's Your Income Tax 2022: For Preparing Your 2021 Tax Return delivers hands-on and practical advice for everyday taxpayers getting ready to file their 2021 taxes. On top of info about the latest changes to the 2021 tax code, you'll get worksheets and forms you can use to file your taxes. You'll also find the most current advice on how to maximize your deductions and credits and keep as much money in your pocket--and out of Uncle Sam's--as possible.
In the newest edition of this celebrated series, you'll find:
Special features on how to interpret recent IRS rulings and Tax Court decisions
Pointers for how to file properly and optimum tax planning strategies to help you save money
New information about the American Rescue Plan Act (ARPA) and the Consolidated Appropriations Act, 2021 (CAA)
Trusted by Americans across the country for over seventy-five years, J.K. Lasser's Your Income Tax 2022 is perfect for anyone looking for the latest and most up-to-date personal tax info before they file their personal taxes.
About the Author
---
J.K. Lasser Institute has been the premier publisher of consumer tax guides since 1939, when Jacob Kay Lasser first published Your Income Tax. Since then, the guide has been published continuously for over seventy years and read by over 39,000,000 people. The J.K. Lasser Institute also publishes personal finance books such as Small Business Taxes and 1001 Deductions and Tax Breaks. J.K. Lasser Institute spokespeople are regularly sought after as media tax experts. They regularly appear on such broadcast programs as CNBC, CNN, and Bloomberg TV. They are also often featured in numerous periodicals, including The Wall Street Journal, USA Today, Self Magazine, The New York Times, Newsweek and Reader's Digest.