War Front to Store Front: Americans Rebuilding Trust and Hope in Nations Under Fire (Hardcover)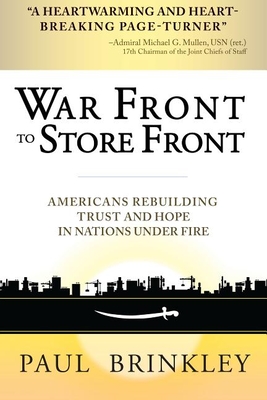 $27.95

Usually Ships in 1-5 Days
Description
---
As the top-ranking official at the U.S. Department of Defense in charge of economic rebuilding, Brinkley and his organization of hundreds of business volunteers struggled against bureaucratic policies to revolutionize foreign aid by leveraging America's strength--its private sector. In doing so, his team demonstrated success in the midst of failure, and created hundreds of thousands of jobs in areas long written off by the civilian bureaucracy as hopeless.
Reporting directly to Secretary of Defense Robert Gates, Brinkley spent five years overseeing economic improvement in Iraq and Afghanistan. The lessons learned in these two nations were soon extended into the war-torn nations of Pakistan, Rwanda, and Sudan.
Brinkley, who worked under both the George W. Bush and Barack Obama Administrations, reveals why American foreign policy has left these nations in the Middle East and Africa disappointed, resentful, and suspicious of American intentions. Optimistic that America can deliver on its economic promise, Brinkley outlines in War Front to Store Front the necessary changes in U.S. foreign policy if we want to rebuild and revitalize an economy under fire.
This engaging account details:
Fascinating insights of the inner workings of American government and its largest bureaucracy--the U.S. Department of Defense
Vivid descriptions of a group of business leaders who sought to change how the Pentagon did business, and who wound up in a war zone, including a firsthand experience of a terrorist attack
Detailed account of the American business model for foreign development that can improve the lives of war-ravaged citizens, at far less cost than existing military and foreign aid programs
Insights into the transition of the Bush Administration to the Obama Administration, and its impact on foreign policy
Inside details on the real business climate in Iraq, before and after Saddam Hussein, as well as its political landscape
Detailed analysis of the future of Afghanistan, economically and politically, and how its democratic institutions struggle to gain a foothold
Comprehensive map to connect Iraq, Afghanistan, and Pakistan to the global economy, creating opportunity and reducing anti-Americanism
Thorough breakdown of lessons learned in the Middle East and U.S. efforts to translate them to African nations, including Rwanda and Sudan
About the Author
---
Paul A. Brinkley served five years as Deputy Under Secretary of Defense and director of the Task Force for Business and Stability Operations, charged with the revitalizing the economies of Iraq and Afghanistan. He is the recipient of the Joint Distinguished Civilian Service Medal and the Secretary of Defense-Defense of Freedom Medal for injuries sustained in a car bomb attack in Baghdad in 2010. He has published articles in "Newsweek "and "Military Review "and has been profiled in "Businessweek, Fortune, New York Times, Washington Post, Der Spiegel, "and "The Economist."