Best. State. Ever.: A Florida Man Defends His Homeland (Hardcover)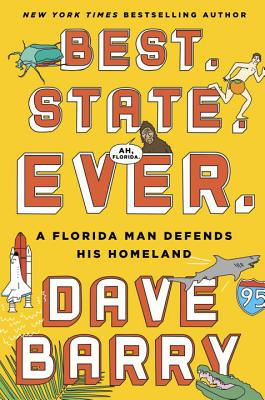 $27.00
Email or call for price
Description
---
A brilliantly funny exploration of the Sunshine State from the man who knows it best: Pulitzer Prize winner and New York Times–bestselling author Dave Barry.
 
We never know what will happen next in Florida. We know only that, any minute now, something will.
Every few months, Dave Barry gets a call from some media person wanting to know, "What the hell is wrong with Florida?" Somehow, the state's acquired an image as a subtropical festival of stupid, and as a loyal Floridian, Dave begs to differ. Sure, there was the 2000 election. And people seem to take their pants off for no good reason. And it has flying insects the size of LeBron James. But it is a great state, and Dave is going to tell you why. Join him as he celebrates Florida from Key West at the bottom to whatever it is that's at the top, from the Sunshine State's earliest history to the fun-fair of weirdness that it is today.
 
It's the most hilarious book yet from "the funniest damn writer in the whole country" (Carl Hiaasen, and he should know). By the end, you'll have to admit that whatever else you might think about Florida—you can never say it's boring.
About the Author
---
From 1983 to 2004, Dave Barry wrote a weekly humor column for The Miami Herald, which in 1988 won a Pulitzer Prize for Commentary. He is the author of more than thirty books, including such bestsellers as the nonfiction Live Right and Find Happiness (Although Beer Is Much Faster), You Can Date Boys When You're Forty, and  I'll Mature When I'm Dead; the novels Big Trouble, Tricky Business, and Insane City; the very successful YA Peter Pan novels (with Ridley Pearson); and his Christmas story The Shepherd, the Angel, and Walter the Christmas Miracle Dog. Two of his books—Big Trouble and Dave Barry's Guide to Guys—have been turned into movies. For a while, his life was even a television series, Dave's World, but then it was canceled. The series. Not the life. For many years, Dave was also a guitarist with the late, infamous, and strangely unlamented band the Rock Bottom Remainders.
Praise For…
---
Praise for Best. State. Ever.

"A side-splitting read. With a guffaw on every page, a wealth of detail and a cocktail of irreverence, you might call Barry's look at Florida a tour de farce. But you'd be wrong. "Best. State. Ever." represents a loving and ribald look at a weird and wonderful place." — Richmond Times-Dispatch

"Whether it's the invsive wildlife or the annual snowbird migration, plenty of folks have disparaged Florida over the years. But leave it to Pulitzer Prize-winning humorist and longtime resident Dave Barry to pen a proper ode." — Garden and Gun

Praise for Dave Barry

"Genuine genius . . . American silliness has long had a champion in Dave Barry. . . . [He] remains, and there is no other word for it, hilarious." —The New York Times Book Review
 
"Dave Barry's latest book of essays is worth every penny when it comes to humor and insight. It's wonderful to see that he hasn't stopped writing about our foibles and his somewhat unique perspective on what makes us tick. And he's able to do it while invoking out-loud laughter." —Associated Press
 
"These latest essays will cause outright, prolonged laughter." —Kirkus Reviews
 
"Despite years of medication, Dave Barry is still the funniest damn writer in the whole country. Let's hope he never grows up." —Carl Hiaasen
 
"Dave Barry is truly the funniest man living in the three-mile 'safe' zone off the shores of America." —Steve Martin
Coverage from NPR