The Tincture of Time: A Parent's Memoir of (Medical) Uncertainty (Paperback)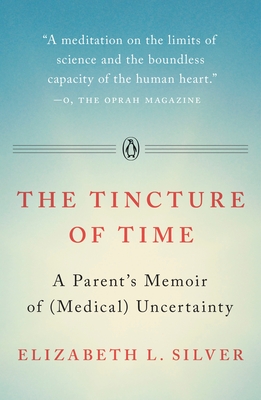 for information about purchasing this book, please contact orders@bookpassage.com
Description
---
Set against the unexplained stroke of the author's newborn daughter, this stunning, unflinchingly honest memoir is a thought-provoking reflection on uncertainty in medicine and in life.


Growing up as the daughter of a dedicated surgeon, Elizabeth L. Silver felt an unquestioned faith in medicine. When her six-week-old daughter, Abby, was rushed to the Neonatal Intensive Care Unit with sudden seizures, and scans revealed a serious brain bleed, her relationship to medicine began to change.

The Tincture of Time is Silver's gorgeous and haunting chronicle of Abby's first year. It's a year of unending tests, doctors' opinions, sleepless nights, promising signs and steps backward, and above all, uncertainty: The mysterious circumstances of Abby's hospitalization attract dozens of specialists, none of whom can offer a conclusive answer about what went wrong or what the future holds. As Silver explores what it means to cope with uncertainty as a patient and parent and seeks peace in the reality that Abby's injury may never be fully understood, she looks beyond her own story for comfort, probing literature and religion, examining the practice of medicine throughout history, and reporting the experiences of doctors, patients, and fellow caretakers. The result is a brilliant blend of personal narrative and cultural analysis, at once a poignant snapshot of a parent's struggle and a wise meditation on the reality of uncertainty, in and out of medicine, and the hard-won truth that time is often its only cure.

Heart-wrenching, unflinchingly honest, and beautifully written, The Tincture of Time is a powerful story of parenthood, an astute examination of the boundaries of medicine, and an inspiring reminder of life's precariousness.
About the Author
---
Elizabeth L. Silver is the author of the novel The Execution of Noa P. Singleton, which was published in seven languages. Her writing has been published in McSweeney's, The Huffington Post, The Rumpus, The Millions, and elsewhere. A graduate of the University of Pennsylvania, the MA Programme in Creative Writing at the University of East Anglia in England, and Temple University, Beasley School of Law, Silver has worked as an attorney in Texas and California and as an adjunct instructor of English literature and composition at Drexel and St. Joseph's Universities. She lives with her family in Los Angeles.
Praise For…
---
"A delicate weave of cultural analysis, personal history, and religious teachings in a meditation on the limits of science and the boundless capacity of the human heart."—O, The Oprah Magazine

"Silver brings to this moving personal account a novelist's pacing, a poet's lyricism and a researcher's meticulousness for fact."
—The Dallas Morning News
 
"The mental trauma resulting from the very real possibility that a beloved baby may die is difficult to articulate. Nonetheless, Silver does so—masterfully—in her book The Tincture of Time. . . . The strength of Tincture is its close attention to detail, which immerses the reader in events as they unfold. . . . Readers don't have to be parents to relate to this engaging story and thoughtful, thorough consideration of uncertainty within and outside the medical establishment."
—The Jewish Book Council

"A mother's uncertainty about her baby daughter's medical care pervades this unsettling memoir. . . . Readers will share Silver's unease with uncertainty. This will resonate with anyone who has experienced diagnostic difficulties."
—Kirkus

"Smartly conceived and well written. . . . An excellent book."
—Publishers Weekly

"In Elizabeth Silver's masterful hands, suffering creates poetry. She draws upon MRI scans, Greek mythology, and the history of medicine to tell the story of her infant daughter's brain bleed, and the resulting meditation on trauma, memory, and time is one of the most riveting stories of illness that I've ever read. This is an unforgettable book."
—Susannah Cahalan, author of Brain on Fire
 
"The Tincture of Time delivers two remarkable books for the price of one: an honest, raw, exquisitely written narrative and an astute yet deeply compassionate investigation of the practice of medicine. It's a book for anyone who's ever grappled with the inescapable uncertainty of life—that is to say, it's a book for everyone. Simply put, I was blown away."
—Darin Strauss, author of Half a Life

"It's nearly impossible to put The Tincture of Time down. Elizabeth L. Silver's brilliant memoir burns from page to page, teaching the reader as much about the fragility of life as it does the power of love."
—Christa Parravani, author of Her

"The Tincture of Time is at once a medical mystery and an affecting meditation on how to live without certainty. Elizabeth L. Silver has written a compelling account of a mother's worst nightmare with grace, intelligence, and love."
—Jill Bialosky, author of History of a Suicide

"The Tincture of Time is just the kind of memoir this world desperately needs. In precise and powerful language, Elizabeth Silver uses her deeply singular experience to shed light on universal issues of wellness, health, the body, healing, and trust. She shines her bright, generous intellect into the deepest reaches of her own heart, and into the heart of every reader. This book will change you, teach you, move you. Read it."
—Emily Rapp, author of The Still Point of the Turning World