Autumn Light: Season of Fire and Farewells (Paperback)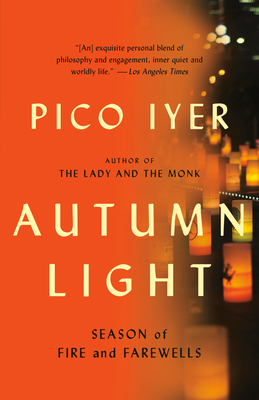 Description
---
In this "exquisite personal blend of philosophy and engagement, inner quiet and worldly life" (Los Angeles Times), an acclaimed author returns to his longtime home in Japan after his father-in-law's sudden death and picks up the steadying patterns of his everyday rites, reminding us to take nothing for granted.

In a country whose calendar is marked with occasions honoring the dead, Pico Iyer comes to reflect on changelessness in ways that anyone can relate to: parents age, children scatter, and Iyer and his wife turn to whatever can sustain them as everything falls away. As the maple leaves begin to turn and the heat begins to soften, Iyer shows us a Japan we have seldom seen before, where the transparent and the mysterious are held in a delicate balance.
About the Author
---
PICO IYER is the author of more than a dozen books, translated into twenty-three languages. In recent years, he has given four talks for TED, and they have received more than nine million views so far.
Praise For…
---
"[An] exquisite personal blend of philosophy and engagement, inner quiet and worldly life." —Los Angeles Times

"What holds everything together, besides Iyer's elegantly smooth prose style and gift for detailed observation, is a circling around the theme of autumn in Japan and this autumnal period in his life." —The New York Times Book Review

"A sensory feast alive with blaze-red maples, 'yuzu-colored' light, haunting temple bells, smoke from fires lighting the paths of the spirit world and the firefly-like winking of lantern-lit graveyards." —Minneapolis Star Tribune
 
"Exquisite. . . . Replete with a quiet assuredness." —The New Yorker

"[An] excellent book. . . . Iyer is an admirable example of a citizen of the world—an erudite, open-minded cosmopolitan." —New Statesman

"Profound . . . Iyer's writing is both simple and lyrical." —New York Journal of Books

"A strange emotional fragility arises after sinking into the book, a heightened sense of awareness of what is usually neglected. As I was reading, I often found myself staring out the window in reverie; catching sight of a falling leaf would inexplicably cause me to cry . . . It's not only a joy to read, it's helpful." — Randy Rosenthal, Los Angeles Review of Books
 
"Luminous. . . . An homage to the Japanese culture of delicate manners, self-restraint, and acceptance that sadness lasts much longer than mere pleasure. The result is an engrossing narrative, a moving meditation on loss, and an evocative, lyrical portrait of Japanese society." —Publishers Weekly (starred review)
 
"A tender meditation on both Japanese culture and the impermanence of life." —National Geographic Traveller
 
"When essayist and novelist Pico Iyer's father-in-law dies, he must return to Japan, where he lives part-time. . . . Iyer dives into the year that follows, when he is forced to come to terms with his loss. . . . [He] describes more than just his mourning process, also illuminating Japanese culture and history as he begins to understand the value of embracing impermanence." —Time
 
"[A] wistful and conscious memoir filled with musings about home, culture, family, and death. . . . With his trademark blend of amiability, lighthearted humor, and profound observations, Iyer celebrates emotional connection and personal expression, and he upholds death as an affirmation of life and all its seasons." —Booklist (starred review)
 
"A lucid writer with endless curiosity, and a secularist with a searcher's heart. . . . A tremendously wise book on the late fires of marriage, how moving toward old age, if you're lucky, as [Iyer] is, a burst of warmth emerges to push you forward into the final step, the journey no one's been able to write about." —LitHub