Moment Work: Tectonic Theater Project's Process of Devising Theater (Paperback)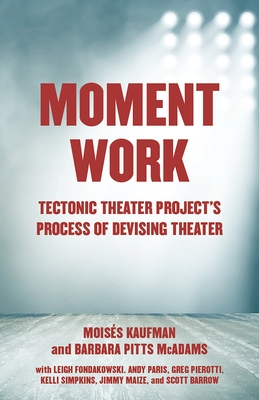 $18.95

Usually Ships in 1-5 Days
Description
---
A detailed guide to the collaborative method developed by the acclaimed creators of The Laramie Project and Gross Indecency--destined to become a classic. A Vintage Original.

By Moisés Kaufman and Barbara Pitts McAdams with Leigh Fondakowski, Andy Paris, Greg Pierotti, Kelli Simpkins, Jimmy Maize, and Scott Barrow. For more than two decades, the members of Tectonic Theater Project have been rigorously experimenting with the process of theatrical creation. Here they set forth a detailed manual of their devising method and a thorough chronicle of how they wrote some of their best-known works. This book is for all theater artists—actors, writers, designers, and directors—who wish to create work that embraces the unbridled potential of the stage.
About the Author
---
MOISÉS KAUFMAN is the founder and artistic director of Tectonic Theater Project, a theater company based in New York City. His 1997 play Gross Indecency: The Three Trials of Oscar Wilde was named one of the best plays of the year by Time, Newsday, the New York Post, The Advocate, and The New York Times. With Tectonic he has directed works by Samuel Beckett, Tennessee Williams, Benjamin Britten, and others, and created new works including The Laramie Project and 33 Variations. He is the recipient of the 1997 Joe A. Callaway Award for excellence in the craft of stage direction. In 2016, President Obama awarded Kaufman a 2015 National Medal of Arts for "his powerful contributions to American theater."
 
BARBARA PITTS MCADAMS was an actor/dramaturg for The Laramie Project, performing at BAM, Alice Tully Hall, Union Square Theater, LaJolla Playhouse, Berkeley Rep, and Denver Center. She also appears in the HBO Films adaptation and shares an Emmy Nomination for the screenplay. Barb originally codified Moment Work for an internal teaching manual, and, as a Moment Work master teacher, leads trainings and devises new plays at colleges and high schools. She has also served as an adjunct professor for Drew University and CUNY's Applied Theater MA program. She is a two-time Orchard Project and Sundance Theater Lab alum and a proud cast member of the award-winning web series Anyone But Me, about lesbian teens in the post-9/11 era.
Praise For…
---
"Tectonic Theater Project is a monumental and pioneering voice in American theater. Their work gracefully merges the political and the poetic to excavate truths about the human condition." —Lynn Nottage, Pulitzer Prize–winning playwright
 
"For theater professionals, this invaluable book offers boundless inspiration as it reinvents the way in which great plays are made.  For theater enthusiasts, it offers thrilling, behind-the-scenes accounts of the birth of seminal works. . . . It is every bit as exciting as the indelible scripts the Tectonic Theater Project creates.  —Doug Wright, Pulitzer Prize- and Tony Award-winning playwright and screenwriter
 
"Tectonic Theater artists give us an insider's perspective to their uniquely diverse and imaginative Moment Work process.  A powerful wake up call to artists." —Mark Bly, former Chair, MFA Playwriting Program Yale School of Drama
 
"An important text for the field of devised theater-making, and theater-making in general. . . . This book invites us to interrogate how a play is made, piece by piece (or moment by moment), from initial research through to experimentation, sequencing, and composition." —Andrew Kircher, Director, Devised Theater Initiative, The Public Theater

"Moment Work has become the foundation of my devising methodology: these practices elevate the theatre maker's ability to precisely articulate their artistic intentions, which makes for strong devisers as well as actors, directors, designers and playwrights." —Rich Brown, Professor of Acting and Movement, Western Washington University
 
"I have been devising theater for over twenty years. . . . Encountering Moment Work was extremely refreshing because it introduces a crystal-clear vocabulary for creating and analyzing devised work. It should be considered the "ur" method of devising." —Dr. Rachel Bowditch, Associate Professor at Arizona State University and author of On the Edge of Utopia