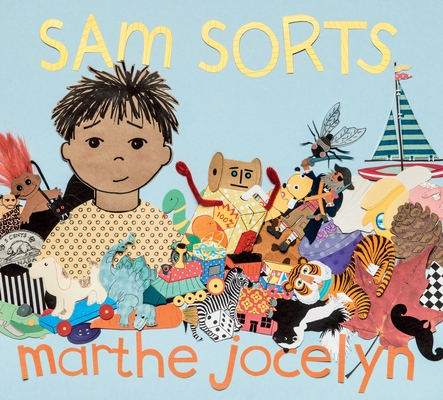 $17.99

Usually Ships in 1-5 Days
Description
---
Marthe Jocelyn is back with another clever concept book to follow Hannah's Collections, Ones and Twos and Where Do You Look? This time, she tackles counting and categories.


Sam's things are in a heap. Time to tidy up! He starts to organize his things, but quickly runs into trouble. He can make a pile of black and white things. But the penguin also belongs in the things with wings pile. He can make a pile of rocks. But the round rock also belongs in the round things pile. How will he ever sort his 100 things? Marthe Jocelyn takes a fun look at categories and counting in this very cleverly conceived story. Kids will delight in the cut-paper images of everything from a zipper pull to a robot, and Sam's surprising solution makes for a tidy end to this unique story.
About the Author
---
Toronto-born MARTHE JOCELYN is the award-winning author and illustrator of over twenty books, including Viminy Crowe's Comic Book and What We Hide. Her picture book Hannah's Collections was short-listed for the Governor General's Literary Award for Illustration. Her novel Mable Riley won the inaugural TD Canadian Children's Literature Award. Marthe is the 2009 recipient of the prestigious Vicky Metcalf Award for her body of work.
Praise For…
---
SELECTION - CBC Most Anticipated Books of 2016

PRAISE FOR Sam Sorts:

"A deceptively simple, joyous introduction to set theory, with lots of other concept practice as a bonus." --Starred Review, Kirkus Reviews 

"In her inimitable way, [Jocelyn's] created (yet another) book that satisfies both simple and sophisticated readings." --The Toronto Star

"Marthe Jocelyn takes a fun look at categories and counting in this very cleverly conceived story. Kids will delight in the cut-paper images of everything from a zipper pull to a robot, and Sam's surprising solution makes for a tidy end to this unique story." --The Children's Book Review

"A decided 5 stars." --Reviews in Chalk

PRAISE FOR Ones and Twos:

"This delightful concept book brings visual literacy to the forefront . . . The simple descriptive verses . . . are spot-on to reinforce images of numeracy, sorting, paring, common-object recognition, and the daily lives of young children. The charming collages are the stars of the show and will inspire curiosity." --Starred Review, School Library Journal

"Sophisticated and yet endearingly simple, Ones and Twos can be enjoyed by both very young children and the adults who read it with them." --Starred Review, Quill & Quire

"Marthe Jocelyn's text is perfect in its simplicity, the short phrases and vocabulary just right for toddler audiences, while the rhythm and rhyme are spot-on . . . a visual feast of colors, patterns and textures." --Starred Review, Kirkus Reviews